Alcatel Idol 4S with Windows 10 VR up for grabs at T-Mobile for $469.99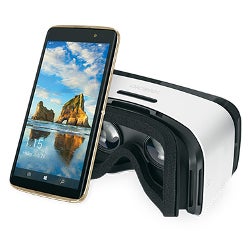 Probably the last high-end smartphone powered by Windows 10 Mobile that will be launched this year, the Alcatel
Idol 4S
is now available for purchase in the United States.
If you've been following our news feed, then you already know
T-Mobile announced
it will add the smartphone to its portfolio. Starting today, customers can buy the Alcatel Idol 4S for only $469.99 outright or for $0 down with 19.59 monthly payments for 24 months.
That's quite a good deal if you're not bothered by the fact that it comes with Windows 10 Mobile, hence less apps and games. On the bright side, you can get the VR goggles that come with the phone for free.
Alcatel and T-Mobile offer the
Idol 4S with a VR
goggle package (while supplies last). In addition, as a special limited time offer (while supplies last), customers who purchase the phone also receive a 45-day trial subscription of Hulu, a 60-day trial subscription to Groove Music, and a free copy of the Halo: Spartan Assault.
Specs-wise, the Idol 4S is an incredibly powerful smartphone that seems to have been released a little bit too late. The phone is packed with an octa-core Qualcomm Snapdragon 820 processor, coupled with 4GB of RAM and 64GB of internal memory (expandable via microSD card).
On the back, Alcatel's high-end smartphone boasts a 21-megapixel photo snapper with phase detection autofocu and dual-tone flash, while in the front there's a secondary 8-megapixel camera for state-of-the-art selfies.
Alcatel Idol 4S
fully supports Continuum so users can enjoy a desktop-like experience. Also, the flagship comes with USB Type-C port, a large 5.5-inch AMOLED display that features full HD (1080p) support, and a 3,000 mAh battery.