There's a party in your pocket, and the Alcatel A5 LED is invited: hands-on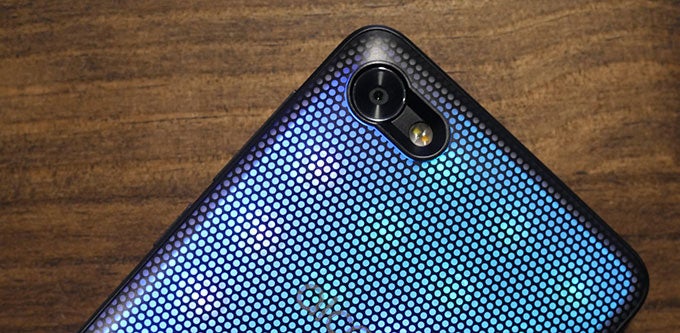 Smartphone trends have a way of coming in waves. First one or two companies start doing VR headsets, and then before you know it, everyone – from the most acclaimed high-end OEM to the cheapest budget outfit – is doing their own spin on the concept. Last year, modular hardware hit the big time, with companies like LG and Motorola embracing it for their flagship devices. While there are clear signs that the modular movement is already beginning to cool off –
LG having dropped it for the G6
, while
Moto Mods, at least, continue to soldier on
– there's been hardly a peep about new companies getting into the idea.
That was the case up until we stopped by the
new Alcatel phone lineup
at MWC 2017, where we got to meet the A5 LED.
While Alcatel's presenting this mainly as a phone with a multi-color, software-controlled LED back, that's only scratching the surface of what this hardware can do. For as it turns out, the same technology that connects that LED panel to the phone also supports a whole family of alternate, feature-packed backs. Without making a big deal out of it, Alcatel is stealthily launching its own modular smartphone.

Alcatel Sneakily Gets Into The Modular Hardware Game
As a regular smartphone, there's not too much to the Alcatel A5 LED: black rectangular body, capacitive Android keys – stop us if you've heard this tune before from a lower-mid-range handset. But this phone's one with one heck of a gimmick, and that takes the form of a series of feature-adding modular back panels that snap on and off the main smartphone body.
The most important of these is the LED panel, which features an array of fully controllable, multi-color lights. They're a good size, and while there's not so many of them that you can spell out messages or anything so fancy, you can still generate some pretty fun-looking light shows to entertain your friends.
You do this with the help of Alcatel's software, which lets you set up custom LED color schemes, as well as toggle between a number of pre-set animation patterns. Syncing these up with music on your phone lets the lights pulse to the beat, and giving the handset a good shake allows you to quickly toggle between patterns.
Alcatel's Color Capture app taps into the A5 LED's camera to let you sample objects around and not only use them to define the colors of the LED panel, but also change the look of the phone's wallpaper and even app icons to match.

The A5 LED Cranks The Tunes With An Add-On Stereo
The LED back is the A5's own, but with its other modular backs, this phone takes
a few notes from Motorola's playbook
. We checked out a stereo speaker with the same sort of pop-up kickstand
we know from that JBL Moto Mod
. It's not quite as loud as the Motorola option, nor does it contain its own battery, but it's still a marked improvement over the internal speaker. And a kickstand on a phone is an accessory we always like to see, even if it's a bit of a blast from the past.
Alcatel Rounds Out Its Modular Hardware With Powerful Options
Again in a move that totally has us thinking "poor man's Moto Mods," Alcatel has a battery add-on for the A5 LED, more than doubling capacity with a 3,000mAh cell. Like all the rest of these attachments, it snaps onto the handset's body and interfaces with the hardware through a series of spring-loaded pins.
Getting them on and off is a bit of a challenge, especially if you don't have strong nails, but once they're on they do have the benefit of feeling nice and sturdily attached – these aren't going to fall off, no matter how hard you jostle them.
While so far we've been talking about backs that add new functionality, Alcatel's also got some that are just plain old backs – no extra features to speak of. But hey, sometime you don't need any extra flash, and this still lets you customize the handset without over-complicating things.
There's A Phone Attached To All These Modules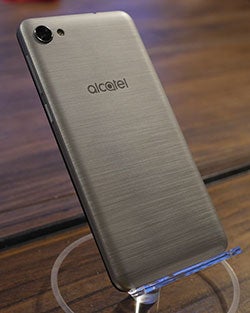 The LED back and these other modular accessories totally overshadow the A5 LED itself, but for those of you who are still curious, we're looking at a handset with a 5.2-inch screen – though one with just a 720 x 1280 resolution – 2GB of RAM, 16GB storage (microSD expandable), and running a 1.5GHz octa-core MediaTek processor. Up front we find a 5MP selfie cam, and the main camera is an 8MP component; don't hold your breath for anything like optical stabilization here. The non-removable battery tips the scales at 2,800mAh.
Just as a phone, that adds up to a not-particularly-memorable package. But once you add these modules – and especially this LED light show action, the likes of which you're not going to find anywhere else – the A5 LED starts becoming a whole lot more interesting.
Should you run out and pick one up? Well, we still don't have the full picture on the phone's release, including which of these modules will be bundles, which you'll have to buy as extras, and what any of this is going to cost you. From the looks of things, we're talking one very affordable package, but the specifics could make or break the A5 LED. We'll bring you those details as soon as they become available.