These two tablets are cheaper than even an Amazon Fire, but are they as good?
1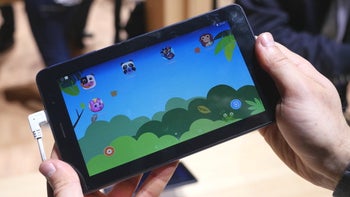 It seems that
more and more companies are giving up on Android tablets
, but Alcatel is not.
The company confirmed its commitment to making Android tablets and introduced two new ones at MWC 2018: a 7-inch one and a 10-inch one, both part of the new Alcatel 1T series.
The
Alcatel 1T 7
and the
Alcatel 1T 10
(full specs at the links here) are dirt cheap tablets that are here to impress with price, not with features.
Both tablets feel plasticky, almost looking like commodities, and both feature displays that do not have proper oleophobic coating and look terribly smudgy after a short use. The colors are off and bluish, and viewing angles are poor. And performance is just barely tolerable. So why are we even discussing them?
Here is why: price.
The Alcatel 1T 7 costs just €70 in Europe, while the larger 10-inch model costs around €100. This is on part with Amazon's Fire line of tablets and it is this cost that makes you consider the new Alcatel tablets. Not for your own use - it's clearly not a tablet that a techie should use - but as a cheap gift to get kids started with mobile computing, or as a utility tablet device for a company, where that low price is essential.
These new Alcatels also come with Kids Mode, a separate launcher that allows you to set time limits on tablet use to ensure kids don't get sore eyes and don't overdoze on mobile games. The Eye Care feature - part of Kids Mode - limits blue light and helps reduce eye fatigue as well.
And here is a quick rundown of the specs of the Alcatel 1T 10 and the 1T 7:
Screen: 10.1" LCD and 7" LCD
Weight: 425g and 245g
Platform: Android 8 Oreo
Battery: 4,000mAh (8-hour battery life) and 2,580mAh (7-hour battery life)
Price: €100 and €70
For what they are, the Alcatel 1T series might find their niche, but those coveting the latest gadgets, could easily forget about these two tablets.