AirPods vs Pixel Buds vs IconX: the best alternatives for the wireless Bluetooth earphones fan
14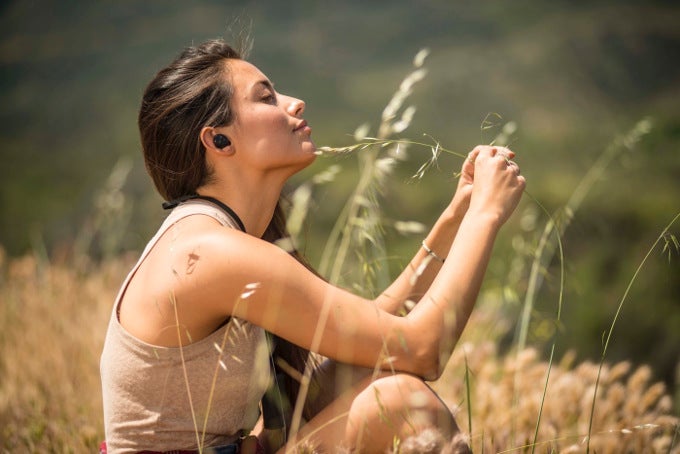 Gone are the days when you had to tread along your morning jog with a cable dangling in front of you, or struggle to bench two hundred with uncomfortable neckware on. Yes, we are talking about the wireless buds that connect to your phone via Bluetooth, but also don't have any physical connection between them to worry about. Well, you still have to worry about losing one of them "hearables," but they all come with dedicated charge-and-carry cases, and some have official (
Pixel
Buds, Bragi) or
unofficial (AirPods) connection cords
, so it's all about healthy habits.
What used to be Kickstarter projects have now matured to actual products, and the big guys like Apple and Samsung also took notice, quickly overwhelming the smaller companies with truly wireless product lines of their own. Apple's
AirPods
are undoubtedly the pair that has
generated the most sales and publicity
, but are there any real alternatives to its
good value-for-money ratio
?
Well,
Google just announced its Pixel Buds
, which can be considered truly wireless, as the cord between them apparently serves only to prevent you from losing one, so check out the best of what's available or coming with the tide of the truly wireless
earbuds
revolution for a price and features commensurate with the
AirPods
.
Bragi stripped its acclaimed $299 Dash set of its sensors, live activity feedback, and other shenanigans, and now offers the unapologetically best AirPods alternative for the price, simply dubbed The Headphone. With up to 6 hours of battery life, they offer endurance commensurate with some cable-connected Bluetooth buds, yet nothing dangles while you jog, power lift, or simply turn around in bed at night.
While Bragi doesn't provide any fitness tracking options like with the Dash, it did keep the Knowles balanced armature speakers, the dual noise-canceling mics, voice controls, as well as the adjustable audio transparency option, so you don't get run over by a bus while cycling. The Headphone comes with its carrying case which doesn't serve as a charger like on the Dash, but with six hours of battery life, you may not need it before you plug them in at home again.
Now that Google is a vertically integrated hardware maker, it outed wireless Bluetooth earphones of its own, called the Pixel Buds. They not only sport enhanced base and dynamic range, and one-touch audio control, but smart features like real-time translation to and from 40 languages. With five hours of battery life (and five full charges in the supplied case), these are one of the longest-lasting wireless earphones - yes, the cable between is only not to lose them. They are even priced as much as the AirPods, but the translation thingy works only with Pixel phones. Bummer.
Samsung leaped ahead of the wireless earbud race with the announcement of the
Gear IconX
, but the celebration was premature, since the battery of these feature-rich but playback-short earphones lasted half of what the AirPods or The Headphone can muster. The upcoming IconX 2018 set rights this wrong, however, equipping with double the battery capacity of its predecessor, and ultrafast charging to boot. Samsung now promises 5 hours of streaming, or, as much as the Pixel Buds.
The new IconX comes with an innovative fit for securing the buds firmly in your auricle while jogging or bouncing around, and it can also act as a standalone music player with 4 GB of memory, so you don't even need your phone on you. Samsung didn't stop here, as the wireless earbuds can now also communicate via Bixby, Samsung's digital voice assistant.
As a tradition, the IconX tracks fitness data - including distance, speed, heart rate, and calories burned - and sync with Samsung's S Health app via Bluetooth. The Gear buds are activated by simply placing them in your ears, and include a motivational Running Coach voice for feedback on your workout progress. Plus, the carrying case doubles as a charger, so you can top them off while you aren't using them on the road.
While not as fancy good looking or base-boosting as the Headphone, the Boots pair also comes at a fraction of the price, and offers about four hours of battery life, depending on the volume. Unassuming as they are SmartOmi's Boots can work for whispering commands to Google Now or Siri, talking while driving, and listening to music - what else. The manufacturer has thrown in some water-resistance, and you can use them for more active living, as they offer a deep, secure fit which also isolates ambient noise in the process. The downside of the deeper fit and the larger battery is that the Boots stick out a bit more than usual, but certainly not more than the AirPods.
Sol Republic is not some no-name brand, but a privately held audio manufacturer based in Michigan, so you might have encountered their headphones here and there already. Not to be left out, they have truly wireless buds now, and, being a patriotic brand, they used to cost as much as the AirPods, but are now just north of a Benjamin. The Amps Air offer noise isolation, deep base and plenty of ear tips for a better fit. The charging case has a 2200 mAh pack, so it can double as an external battery for your phone, and the buds are liquid-resistant, so you can take them to the gym, or while running in the rain, if that's your thing. The promised three hours of battery life while streaming on a charge is nothing to write home about, though.
The Elite Sport are being marketed to a different group of people than the AirPods are, with IP67 rating, heart-rate and fitness tracking, and isolated audio - clearly tailored to the active crowd. Be that as it may, they can be had for only twenty bucks more than Apple's wireless buds, and offer all the fitness extras you can think of while you wait on the new IconX. The Elite Sport, however, is marred by a middling battery life that is half of what the AirPods offer, so while fitness tracking might be more important to you, you'd have to sacrifice longevity on a charge. Tradeoffs, tradeoffs.