Apple AirPods receive a firmware update to version 3.5.1
10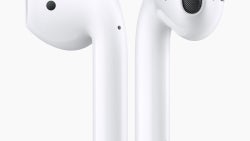 Some years ago, if anyone said that one day we'd be worrying about headphone software updates, that would have sparked a chuckle. Now, that's a side effect of having miniature computers in everything and enjoying the privilege of smart technology. So don't be surprised to see your Apple AirPods upgraded to a new firmware version after putting them in their charging case – yes, it happens automatically.
The wireless earphones are being updated from fw version 3.3.1 to fw version 3.5.1, but the changes are a mystery. It must be a maintenance update with bug fixes, as Apple would have disclosed any new features added.
The AirPods' firmware version can be checked by pairing them with your iOS device and going to Settings > General > About > AirPods.
ALSO READ