Apple's AirPods have taken 26% of the online market for wireless headphones
37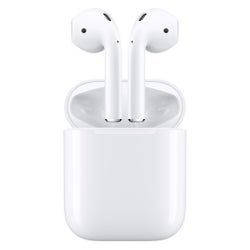 After a two-month delay
while Apple was ironing out some problems with the product, the wireless Bluetooth powered AirPods finally launched on December 13th. Already, AirPods own 26% of the online wireless headphone market,
cementing what Apple CEO Tim Cook has called "a runaway success."
The data comes from
Slice Intelligence
and is generated from actual receipts. This means that the figures should be very accurate.
In December 2015, wireless headphones accounted for half of the entire online U.S. headphones market for the first time. Last month, three out of every four headphones sold online in the states were of the wireless variety. Besides Apple, Samsung has its Gear IconX wireless ear buds that compete with the AirPods. But Apple does have the benefit of having sold millions of
Apple iPhone 7
and
Apple iPhone 7 Plus
handsets, all sans a 3.5mm earphone jack. All of these iPhone 7 and iPhone 7 Plus owners are potential AirPods buyers. On the day of the product's launch, December 13th, wireless headphone sales made online were ten times higher than the pre-holiday figure for an average day in 2016. For all of 2016, it was the single day with the most online sales of wireless headphones.
Apple has been dominating the category, and not just because of the $159 AirPods. Prior to the product's launch, Beats had the leading market share based on online sales, with 24.1%. That company of course, is owned by Apple. After the AirPods launch, Beats owned 15.4% and Apple had 26% for a combined market share of more than 40%. It might have been coincidence, but Bose got a huge lift from the AirPods launch as its share of the online wireless headphones market rose from 10.5% to 16.1%
Now that we now who is selling product, the question is, who is buying it? Female Boomers have the largest share at 38% followed by male Millemmials at 35%, and female Millennials at 32%. You can check out all of the data by clicking on the slideshow below.
source:
SliceIntelligence
via
RedmondPie