Kazuo Hirai takes over as Sony CEO and President
27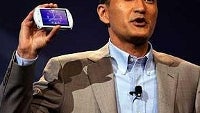 Sony has just announced a big shuffle in its top management:
Kazuo Hirai has been appointed the new CEO
and President of the company replacing Howard Stringer who will now serve as Chairman of Sony's Board of Directors. This confirms various rumors floating around the web in the last couple of months.
Kaz Hirai's promotion is little surprise - he underwent series of promotions recently going from executive deputy president to Sony Computer Entertainment Chairman, and after heading Sony's games department, he will take over the chief executive role on April 1st.
"The path we must take is clear: to drive the growth of our core electronics businesses - primarily digital imaging, smart mobile and game; to turn around the television business; and to accelerate the innovation that enables us to create new business domains,"
Hirai said.
It seems that Hirai has a clear mission - to integrate Sony's TV and personal computer business with its position in the gaming industry and add the growing mobile space into the picture as well.
Former man-in-charge Stringer described the 51-year-old Hirai as
"a globally focused executive for whom technology and the cloud are familiar
territory, content is highly valued, and digital transformation is second nature."
Hirai, a native of Japan, is known to be a good speaker, with fluent English and is widely viewed as the best candidate for the Sony CEO position.
After the successful Walkman series in the 80s, Sony struggled after Apple beat it in its own game with the iPod, Samsung dominated TV sales and game consoles are now a very competitive business with Nintendo's Wii and Microsoft's XBOX platforms.