After Samsung and Nokia, it is now LG's turn to release an Apple-bashing ad
41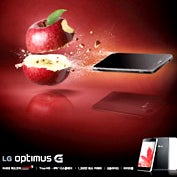 When you are the most profitable business in your industry, you certainly get more flak from the competition than the rest, which
Samsung
,
Nokia
and others have proved with Apple-bashing ads time and again.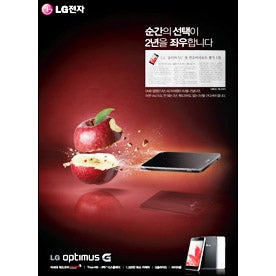 Now it is LG's turn, as this might be considered a pretty good year for them against the looming fellow countryman Samsung - LG made a great phone like the
Optimus G
, and landed the offer for this year's Nexus phone by Google, so it can't really be counted as an underdog.
Plastered all over major Korean publications is this funny ad that depicts the Optimus G slicing an apple like a shuriken, and there are no doubts in anyone's mind what the fruit is supposed to represent. There is some trash talk in the ad, too, which LG commented on with the following:
Our posters contain facts on the iPhone 5, and is not slander. It is just a fact that is has no NFC, no DMB. Its screen is comparatively small so that is also true. Other nuanced phrases are usually adopted for marketing. We are absolutely not targeting Apple as a company and the messages on the posters are not our official stance.