Adobe releases Photoshop Mix and three other apps for Android - free, but with a twist!
6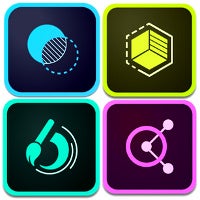 Remember when Adobe announced that it will be discontinuing its Photoshop Touch app for Android? Well, apart from killing off one of its mobile apps, the developer also claimed that it was on the brink of releasing a new image-editing app for Android,
codenamed Project Rigel
.
The new Photoshop app - Adobe Photoshop Mix - is not coming alone, mind you. Adobe also just released three more apps that are all, naturally, centered around graphic design.These are Adobe Shape CC, Adobe Brush CC, and Adobe Color CC.
First things first, it's worth mentioning that these are not standalone apps. In order to use them, you need to be subscribed for Adobe's Creative Cloud services.
But now back to Photoshop Mix. Just as we imagined, the new app offers an improved way to edit images while on the go. Basic tuning, cropping, and most importantly, mixing of two or more photos is also on board. The latter feature can be safely viewed as one of the highlights of Photoshop Mix (just take a look at the majestic cat-horse hybrid in the gallery below!).
As far as the other apps are concerned, they have the following features in store: Adobe Shape CC allows you to take a picture of an object, then easily create and edit (in a basic way, of course) vector graphics from it; Adobe Brush CC allows you to snap a picture with your phone's camera and transform it into a custom brush that can be afterwards used in Adobe's full-blown Photoshop and Illustrator. Last, but not least, we have Adobe Color CC, an app that allows you to snap a picture and afterwards create a custom color palette by analyzing the taken image.
All of these apps are available for free, but as we said, you have to be an Adobe CC subscriber.
Download:
Adobe Photoshop Mix
|
Adobe Shape CC
|
Adobe Brush CC
|
Adobe Color CC
via:
The Droid Review