Ad compares low-light photography on Nokia Lumia 928 with Apple iPhone 5 and Galaxy S4
73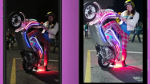 Thanks to the more complex cameras that have been placed on handsets lately, the ability of a smartphone's camera to take decent shots in less than optimal lighting has become a feature to be used to promote certain models. No OEM has used this more than Nokia, but that really shouldn't be surprising considering the capabilities of the snapper on the
Nokia Lumia 920
, which has been handed down to newer models like the
Nokia Lumia 925
and the
Nokia Lumia 928
.
As recently as a year ago, you wouldn't have heard that much about using your smartphone's camera to take passable snapshots in dim lighting. But thanks to cameras with lower f-stop readings, cellphone cameras are letting more light in, improving the capabilties of the rear-facing camera to take decent low-light shots. The f2.6 f-stop on the
Samsung Galaxy S III
camera compares to the f2.0 on the Nokia Lumia 928. This explains why the latter takes better photos under low-light conditions than the former Android flagship model does. The smaller the f-stop number, the larger the aperture hole in the camera. The larger the aperture hole, the
more light
that is let through to the picture.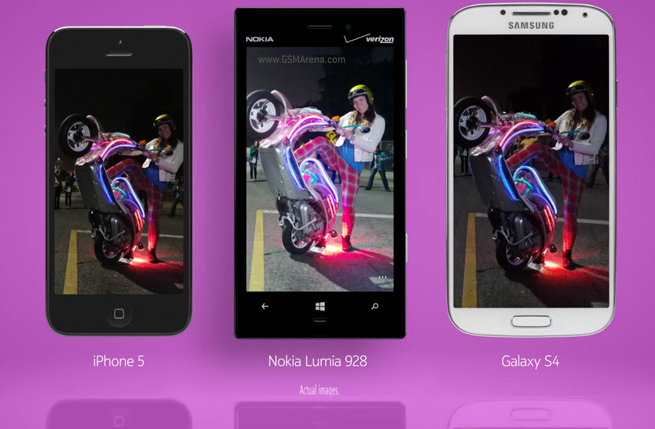 Comparing the low-light capabilities on a trio of high-end phones
Nokia has grabbed onto this new found focus (no pun intended) on low-light photography like a pit bull whose jaws are locked around the leg of a helpless postman. And while we have just offered
our own comparison of the Nokia Lumia 928 and the Apple iPhone 5
for your perusal, the Finnish manufacturer has just released a new television ad that shows its own comparison of the low-light capabilities of the camera on its just released Nokia Lumia 928 with the shooter on both the
Apple iPhone 5
and the
Samsung Galaxy S4
. At the end of the commercial, you can see a quick comparison of a photo taken without flash on the Nokia Lumia 928 and both Apple and Sammy's current flagship models.
While Nokia appears to have the edge on this niche of the market for now, it won't be too long before other OEMs catch on and start releasing cameras with lower f-stops. The recently released
Lenovo IdeaPhone K900
, for example, just touched down in China sporting a 13MP rear-facing camera that features an
f1.8 aperture size
.
source:
YouTube
,
Neowin
via
GSMArena