Acer ICONIA TAB A200 benchmark tests
0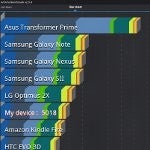 Knowing that this is the year of quad-cores, it's rather confusing at first to think that dual-core devices are no longer deemed to be the cream of the crop, but rather, it's eventually going to slide as being nothing more than mid-range. Then again, there's one benefit to that whole mentality, and that's the fact that they're going be priced a lot less – thus, saving you some hard earned cash. With the
Acer ICONIA TAB A200
, it doesn't scream anything compelling on paper with its
1GHz dual-core NVIDIA Tegra 2 processor
, but nonetheless, we're curious to see how it handles.
Out of the box, we're treated to that all too casual Honeycomb experience with a tablet running NVIDIA's pride and joy CPU. For most basic tasks, like opening apps or navigating the homescreen with a static wallpaper, it's ample enough to instill us with some confidence that it's responsive – however, its flaws are once again exposed with process intensive tasks. For example, we do notice a hint of choppiness when navigating across the homscreen with a live wallpaper, while using it in portrait still results in a tiny bit of a delayed response.
Turning our attention with the our first benchmark test,
Quadrant
, the Acer ICONIA TAB A200 is able to put up scores roughly between the
1,500 and 1,800
– never once hitting the 2,000 mark. Obviously, that's nowhere close to some of the benchmark devices out there on the market, like the Asus Transformer Prime or Samsung Galaxy S II. Meanwhile, the
AnTutu benchmark
puts out a total score of
5,018
, which is again nothing spectacular compared to the competition. Are we surprised? Of course not, especially after seeing its performance out of the box. Otherwise, it should prove to be decent enough if you happen to have a good amount of patience, but for those that expect instantaneous results, this might not cut it for them.