Abduction! for Android test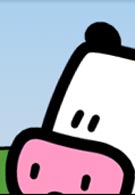 Alien invasion! All sorts of intergalactic villains enter the Earth´s atmosphere and get down to... unscrupulously stealing our own herds of domestic animals. The brave farmers, however, cannot afford to and will not panic (not to mention most of them wouldn´t anyway, given they tend to play FarmVille on regular and seem pretty obdurate to the tricks of fortune), plus they are aided by the very same loyal and devoted droves of domesticated animals, subject of the hostile abduction endeavour. While taking off the ground, the alien ships seem to have dragged along chunks of the Earth´s crust that the brave victims can now use to get their hands, hooves, paws and whatever limb have you on the vile other-worldly beings.

Abduction! is one of the titles that do not offer spectacular 3D graphics or stunning visuals, but delivers a truly addictive gameplay that many of you will certainly end up severely hooked up on. The demo trial is completely free, while the full version is available for just $1.99 and this is money well spent, since what you get in return is 16 characters, campaign with 22 single missions, 36 different challenges and the option to create your own levels. It´s been a while since Abduction! rolled out, but the game still remains one of the most addictive titles for the Android platform. In case you´re unable to find anything else to catch your eye on Android Market, well, we do recommend the game.