AT&T unveils the official names of its Windows Phone 7 stable
8

AT&T just unveiled the long-expected list of Windows Phone 7 handsets that will carry the burden of the initial launch, and there are a few surprises in that lineup already.
AT&T will carry the HTC Surround, Samsung Focus and the LG Quantum – the official names of our old acquaintances
HTC T8788
,
Samsung Cetus
and the
LG C900
. The HTC Surround is the most interesting of the three. It has a slide-out element, but what comes out is Yamaha speakers, not a landscape keyboard. Size-wise it is 4.70 X 2.42 X 0.51 inches (119.5 X 61.5 X 12.97 mm), and weighs a hefty 5.82 ounces (165 grams) with the 1230mAh battery. Well, those rocking speakers have to come from somewhere, right? AT&T lists the HTC Surround as having 16GB of internal memory.
The phone is obviously the music-centric member of the bunch, since it features Dolby Mobile and SRS surround sound, audience noise suppression and the aforementioned integrated stereo speakers. The screen size is 3.8" with 480x800 pixels of resolution. The HTC Surround also covers all the WP7 basics, of course - 1GHz chipset and 5MP camera with LED flash, which is also HD video capable.
The Samsung Focus seems to be the US equivalent of the
Samsung Omnia 7
, at least regarding the possession of a 4" Super AMOLED screen with WVGA resolution, 5MP camera, 8GB of storage and will be 0.35" (9mm) thick. AT&T should be offering the Samsung Focus for $199 come November 8, on a two-year contract.
The LG Quantum seems to be the leaked
C900
, which is a landscape slider with a full physical QWERTY keyboard. The LG Quantum features 3.8" screen with WVGA resolution, a 1GHz Snapdragon processor, 16gb of storage, and a 5MP camera with 720p video capture. The LG twist here is the DLNA functionality for wireless multimedia sharing on enabled devices. It will be available few weeks from now for $199 on a two-year contract.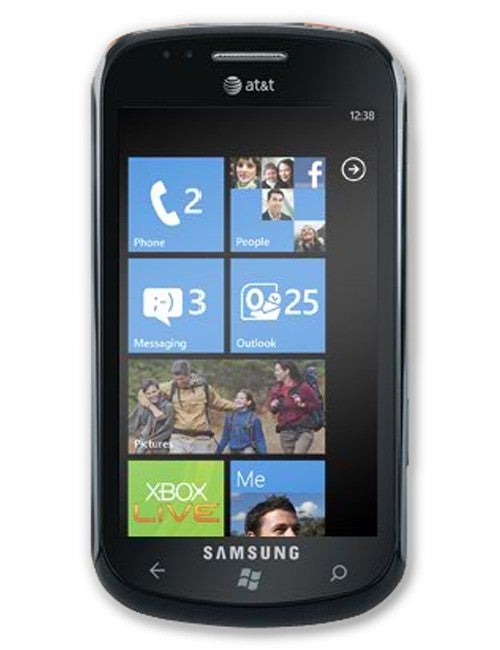 Samsung Focus
HTC Surround Specifications
Samsung Focus Specifications
LG Quantum Specifications
source:
AT&T