AT&T survey shows commuters continue to text and drive, outnumber the kids
4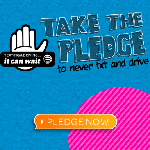 With April being
Distracted Driving Awareness
month, it was apropos that AT&T conducted a survey of commuters to see how many of them are driving while distracted by their smartphone. First of all, the carrier says that 98% of those who commute daily know about the dangers of texting and driving. We don't about you, but we'd be interested in seeing the 2% who don't know that such actions are dangerous.
Meanwhile, 49% of commuters text and drive. That is actually higher than the
43% of teens
who are fiddling with their QWERTY keyboards while driving. And the teens are supposed to learn from us? 60% of those commuters who are texting and driving say that three years ago, they never would have been caught dead (no pun intended) committing this deadly act.
BlackBerry and Android users can download AT&T's free
Drive Mode
app. If you have the app enabled and are in a vehicle traveling over 25mph, any incoming text is interrupted and a return message automatically goes out to the sender of the message, saying that you are behind the wheel and will return the message later. It is a free download from the Google Play Store or BlackBerry World, and one that could save your life.
source: AT&T (
1
), (
2
), (
3
), (
4
) via
IntoMobile