AT&T officially announces the LG Nitro HD, available on December 4th
23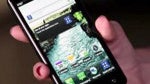 Not that there was any doubt as to what LG planned to announce at their
Thursday night launch event
, but in case one or two of you simply couldn't hold out any longer, AT&T removed the suspense by announcing the
LG Nitro HD
handset, which will be available in stores and online on December 4th.
The Nitro HD is AT&T's version of the
Optimus LTE
, and like it will sport a
monstrous 4.5" 720p screen
. This translates into pixel density of around 326ppi, which equals the clarity of Apple's "retina display" on the much smaller, 3.5-inch iPhone 4/4S display. All of that screen estate and internals fit in a pretty slim, 0.41-inch (10.4mm) body.
Additionally, there's a dual-core 1.5GHz CPU, 1 GB of RAM, and an LTE radio. LTE is a bit of a novelty on AT&T right now, but the phone's radio will work on all of the 15 LTE markets available on AT&T. AT&T points out that before the end of the year their LTE network will cover 70 million Americans. The Nitro HD also has HSPA+, which should tide over the rest of you while you pine away for AT&T to bring their LTE goodness to your neck of the woods.
In terms of software, the handset is shipping with Android 2.3 Gingerbread with no specifics given about an Android 4.0 Ice Cream Sandwich update. It looks though that it's a matter of time until LG gives us more details about updating the handset to ICS, as the Optimus LTE was confirmed to get the newest Android. The phone ships with 4 gigs of internal memory and a 16GB microSD card.
If you're interested, the
Nitro HD release date
is set for December 4th, merely a week from now, and the
price
is set at $249.99 with a two-year contract.
Who's planning to pick one of these up for the holidays?
source:
AT&T
via
Android Central