AT&T offers subsidized iPhone 3G S prices for certain early adopters
0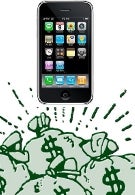 Early Wednesday, we
passed along
to you a tip we received that good news was going to come out for those early adopters who wanted to pay the cheaper subsidized pricing on the iPhone 3G S. This afternoon, AT&T announced that those customers who are eligible for upgrades from July through September 2009 will be able to purchase the new iPhone at the best upgrade price starting June 18th. That works out to $199 for a 16GB model and $299 for the 32GB version. In their press release, the carrier notes that those who spend more than $99 per month on each line are allowed upgrades within 12 to 18 months into their contract.
If you already ordered from an AT&T Store, the price will be adjusted when you pick up the handset. If you ordered online through AT&T, you will receive an e-mail and a credit will be issued to you. If you ordered directly from Apple, the manufacturer will determine if you meet the subsidized pricing requirements, and if you do, they will issue a credit to you.
If you're not sure if you qualify or you need more information, you can check out the source link or give your friendly AT&T or Apple rep a call.
Apple iPhone 3G S Specifications
source:
AT&T