AT&T lights up LTE-Advanced in New York, San Francisco, and Dallas
14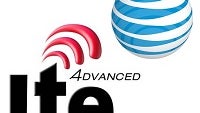 Senior Vice President of Network and Product Planning at AT&T, Tom Keathley shared some insight about the company's deployment of the next step in LTE network services.
About a year ago, AT&T implemented carrier aggregation to launch
LTE-Advanced in Chicago
and a couple other nearby markets. With that set-up, high-definition voice-over-LTE became an available feature for compatible handsets.
Keathley pointed out in a recent interview that while AT&T has not generally commented on the progress of deployment of LTE-A, he did point out that the carrier has "a lot of big markets" have aggregation deployed.
Most notably, New York, San Francisco, and Dallas now have active LTE-A service, and those deployments will expand through 2015. The reason for being somewhat quiet about these network developments is because not every device is compatible with the service, or the voice-over-LTE feature that is slowly rolling out.
However, Keathley did point out that AT&T has about 20 LTE-Advanced compliant devices available. As the network deployment of LTE-A continues, and as more compatible devices become pervasive across the customer base, we can expect AT&T to tout a little louder about voice-over-LTE, and the faster speeds of the enhanced network.
source:
FierceWireless