AT&T expanding 4G LTE in 16 cities, plans to have 250 markets covered by end of summer
18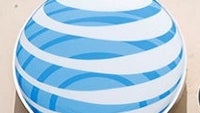 AT&T still has a lot of catching up to do to reach Verizon Wireless' 4G LTE outreach, but it is on the right track quickly expanding its network and now it announces a handful of new locations getting LTE.
Beginning today, AT&T LTE network lights up in Jackson, TN, Kalamazoo, MI, Napa, CA, Orangeburg, SC, Rocky Mount-Wilson, NC and Santa Rosa-Petaluma, CA.
Correction:
AT&T is also expanding its 4G network in 16 existing markets cities. An earlier version of this article incorrectly stated that AT&T is expanding in 16 new markets and that is not the case.
Additionally, AT&T has pre-announced that starting this summer it will flip the LTE switch in 77 more markets bringing its total coverage to 250 markets by the end of summer.
The full list of new AT&T 4G markets is right below with the notable inclusion of Paris and Athens in... Texas, of course.
source:
AT&T

AT&T 4G LTE Coming To Texarkana This Summer

TEXARKANA, Texas, April 10, 2013 /PRNewswire/ -- AT&T* plans to roll out 4G LTE in Texarkana this summer, bringing customers the latest generation of wireless network technology and faster mobile Internet speeds from the nation's fastest 4G LTE network**.

LTE technology is capable of delivering speeds faster than many other mobile Internet technologies***. Customers will be able to stream, download, upload and game faster than ever before on the latest 4G LTE-compatible smartphones, tablets and devices.

"Texarkana enjoys AT&T's fast 4G speeds today as part of the nation's largest 4G network, and our teams will be working hard across the city toward our upcoming 4G LTE launch," said Ed Drilling , president of AT&T Arkansas. "AT&T customers in Texarkana can look forward to even faster speeds by the end of the summer, on our leading lineup of smartphones, tablets and other devices."
---
_LTE Market Pre-Announcements _

1.Florence / Muscle Shoals, AL

2.Huntsville, AL

3.Monroeville / Evergreen, AL

4.Troy / Greenville, AL

5.Tuscaloosa, AL

6.Flagstaff, AZ

7.Chico, CA

8.Merced, CA

9.Visalia, CA

10.Dover, DE

11.Lake City, FL

12.Ocala, FL

13.Hancock, GA

14.Jefferson / Commerce (Jackson County), GA

15.Valdosta, GA

16.Davenport, IA

17.Champaign, IL

18.Rockford, IL

19.Columbus, IN

20.Fort Wayne, IN

21.Manhattan, KS

22.Topeka, KS

23.Elizabethtown, KY

24.New Iberia, LA

25.Shreveport, LA

26.Cape Cod, MA

27.Leonardtown, MD

28.Flint, MI

29.Lansing, MI

30.Muskegon, MI

31.Saginaw, MI

32.Duluth, MN

33.Cape Girardeau, MO

34.Columbia, MO

35.Biloxi/Gulfport, MS

36.Corinth / New Albany, MS

37.Greenwood / Cleveland, MS

38.Meridian / Philadelphia, MS

39.Asheville, NC

40.Goldsboro, NC

41.Kinston, NC

42.Portsmouth, NH

43.Atlantic City, NJ

44.Millville, NJ

45.Southern NJ Shore Points, NJ

46.Farmington, NM

47.Gallup, NM

48.Batavia, NY

49.Cortland, NY

50.Seneca Falls, NY

51.Dayton, OH

52.Wooster, OH

53.Youngstown, OH

54.Salem, OR

55.Williamsport, PA

56.Anderson, SC

57.Chattanooga, TN

58.Cookeville, TN

59.Athens, TX

60.Brownsville-Harlingen, TX

61.Corsicana, TX

62.Huntsville, TX

63.Laredo, TX

64.Lufkin-Nacogdoches, TX

65.McAllen, TX

66.Paris, TX

67.Sherman-Denison, TX

68.Texarkana, TX

69.Victoria, TX

70.St. Croix, US Virgin Islands

71.St. Thomas, US Virgin Islands

72.Petersburg, VA

73.Roanoke, VA

74.Spokane, WA

75.Huntington, WV

76.Morgantown, WV

77.Laramie, WY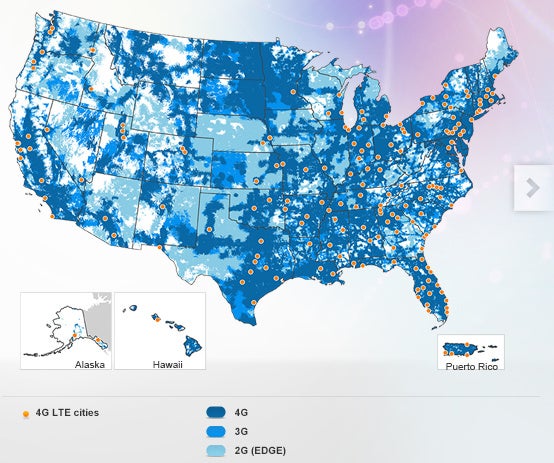 AT&T's current coverage map