AT&T customers might FLIPOUT over change in plans
6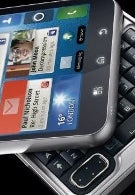 AT&T retail outlets were apparently told to destroy material related to the Motorola FLIPOUT. As we
reported
, the phone was expected to be launched this past weekend but instead, corporate owned stores received marching orders from HQ to destroy any literature relating to the device. Calls to AT&T reps confirmed that the phone was not launched over the weekend as planned and AT&T personnel refused to comment on the reasons for the cancellation, nor would they comment on whether or not a launch would be re-scheduled.
Considering that all material related to the FLIPOUT was destroyed, it doesn't look good for an eventual release of the device. Of course, nothing prevents the material from being reprinted if the carrier decides to try to launch the phone again. As we recently
told you
, the carrier expects to offer a Motorola Android flavored device called the "Flipside" on October 17th with similar specifications to the missing FLIPOUT. If you absolutely can't wait for October 17th, the Motorola CHARM over at T-Mobile has similar specs albeit in a candybar form factor.
M
otorola Flipside/Chindi Specifications
Motorola CHARM Specifications
|
Review
source:
EngadgetMobile