AT&T Samsung Galaxy Tab S 8.4 LTE gets Android 5.0.2 Lollipop update
2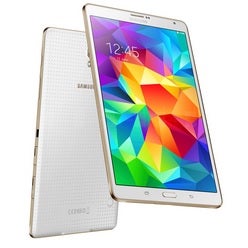 Keeping track of Android updates can be a tedious task, particularly if you happen to own one of the many dozens of Samsung devices currently occupying the mobile market. The Wi-Fi edition of the
Galaxy Tab S 10.5
saw Android 5.0.2 Lollipop
way back in March
, with the AT&T version was recently treated to the very same update. Now, the AT&T variant of the Galaxy Tab S 8.4 is finally getting Android 5.0.2 as well, with the OTA update having just been announced by the carrier.
Considering that the
Verizon edition
of the slab got its Android 5.0.2 update a couple of weeks ago, AT&T is lagging behind a little bit. But if you did purchase your Tab S 8.4 from AT&T, the update is officially here, and is being rolled out over the air as we speak. If you haven't been notified as yet, don't panic; the update is making its way through cyber space, and should be with you at some point over the next day or two.
Once that all-important notification does grace you with its presence, you'll need to be connected to Wi-Fi, and since the update is over a gigabyte in size -- 1147 MB, to be more precise -- it could take a while for the process to complete. After the deed's done, you'll be running a pristine version of Android 5.0.2, featuring perks such as Quick Settings, Device Protection, improved notifications and several other goodies besides.
Let us know if your AT&T Galaxy Tab S 8.4 has received the update via the comments.