AT&T Galaxy S7 rooted, method reported to work for T-Mobile S7
4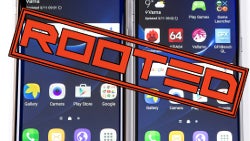 Rooting has been a part of hardcore Android users' mantra for years now. In short – it gives the phone owner full access to all system sectors in their device, allowing for more customization and feature tweaking. While this was fine and dandy (or at least not explicitly prohibited) with most manufacturers in the past, recent developments in services and the way we use our mobile devices have prompted phone builders and app developers alike to restrict certain features if a phone root has been detected. Additionally, manufacturers have upped their game in making rooting more difficult for modders. In some cases, this is done to safeguard the user's private data, as the phone builder can't guarantee the security on a rooted handset, in others – to battle piracy concerns.
So, the
Samsung Galaxy S7
, being the latest flagship by Sammy, and offering data-sensitive services like
Samsung Pay
, is one of the aforementioned hard-to-crack models, especially if your unit has been issued by a specific carrier as they come with locked bootloaders. However, a small victory for hardcore users has been won yesterday, when user br3w3r posted a guide to root AT&T-issued Galaxy S7 units on the XDA Developers forums.
The process requires you to download engineering boot images for your device, a specific version of SuperSU, and a patched version of Odin3. The patch will work on both the Galaxy S7 and
Galaxy S7 edge
for AT&T, and some users have reported it working on the Galaxy S7 edge for T-Mobile as well!
As far as sacrificing features – S Pay will stop working after you root! However, testers have reported that this method does not "trip" Samsung's KNOX security software. Visit the link in the source for the full XDA Dev thread.