Up in ARMs: TSMC recruited to produce the next generation of 20nm 64-bit mobile chips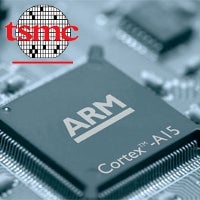 British mobile chip designer ARM and the world's largest foundry for those TSMC have deepened their partnership to work on ARMs next generation silicon. The task is a die shrink to 20nm, from the current 28nm (Snapdragon S4) or 32nm (Exynos).
Not only that, but those chips are supposed to be 64-bit, and utilize a TSMC's FinFET technology, which is similar to the current 22nm 3D transistors that Intel is using in its brand spanking new Ivy Bridge architecture.
All those improvements promise a huge performance boost with less space taken, and at lower power consumption envelopes. Furthermore, the FinFET production tech will allow shortened time to markets, not like now, when
ARM announced its Cortex-A15 architecture almost two years ago
, and we are yet to see a single retail gadget with those chips. As per
Cliff Hou, VP of TSMC Research & Development:
This collaboration brings two industry leaders together earlier than ever before to optimize our FinFET process with ARM's 64-bit processors and physical IP. We can successfully achieve targets for high speed, low voltage and low leakage, thereby satisfying the requirements of our mutual customers and meeting their time-to-market goals.
Advancing the clock frequencies while keeping the same frugal power consumption ARM chips are known for, are the key factors for the widespread adoption of the RISC architecture even beyond the mobile realm. After 20nm chips, ARM and TSMC are continuing the partnership all the way down to 15nm.
ARM and TSMC Collaborate to Optimize Next-Generation 64-bit ARM Processors for FinFET Process Technology

23 July 2012

Multi-year agreement drives alignment of next-generation processor, physical IP, and process technology foruse in high-performance, energy-efficient mobile and enterprise markets

Hsinchu, Taiwan and Cambridge, UK – July 23, 2012 – TSMC (TWSE: 2330, NYSE: TSM) and ARM today announced a multi-year agreement extending their collaboration beyond 20-nanometer (nm) technology to deliver ARM processors on FinFET transistors, enabling the fabless industry to extend its market leadership in application processors. The collaboration will optimize the next generation of 64-bit ARM® processors based on the ARMv8 architecture, ARM Artisan® physical intellectual property (IP), and TSMC's FinFET process technology for use in mobile and enterprise markets that require both high performance and energy efficiency.

The collaboration will enable sharing of technical information and feedback between the two companies, enhancing the development of ARM IP and TSMC process technology. ARM will leverage process information to optimize the power, performance and area (PPA) of the overall solution to reduce risk and encourage early adoption. TSMC will use the latest ARM processors and technology to benchmark and tune advanced FinFET process technologies. The combination of TSMC FinFET technology and ARMv8 architecture provides the fabless industry with solutions for continued innovation across diverse market segments. The collaboration will result in improved silicon process, physical IP and processor technology that together will enable new system-on-chip (SoC) innovation and shorten time-to-market.

The ARMv8 architecture extends ARM low-power leadership with a new energy-efficient 64-bit execution state to meet the performance demands of high-end mobile, enterprise and server applications. The 64-bit architecture has been designed specifically to enable energy-efficient implementations. Similarly, the 64-bit memory addressing and high-end performance are necessary to enable enterprise computing and network infrastructure that are fundamental for the mobile and cloud-computing markets.

TSMC's FinFET process promises impressive speed and power improvements as well as leakage reduction. All of these advantages overcome challenges that have become critical barriers to further scaling of advanced SoC technology. ARM processors and physical IP will be able to leverage these attributes to maintain market leadership, while the companies' mutual customers can benefit from these improvements for their new, innovative SoC designs.

"By working closely with TSMC, we are able to leverage TSMC's ability to quickly ramp volume production of highly integrated SoCs in advanced silicon process technology," said Simon Segars, executive vice president and general manager, processor and physical IP divisions, ARM. "The ongoing deep collaboration with TSMC provides customers earlier access to FinFET technology to bring high-performance, power-efficient products to market."

"This collaboration brings two industry leaders together earlier than ever before to optimize our FinFET process with ARM's 64-bit processors and physical IP," said Cliff Hou, vice president, TSMC Research & Development. "We can successfully achieve targets for high speed, low voltage and low leakage, thereby satisfying the requirements of our mutual customers and meeting their time-to-market goals."

About ARM

ARM designs the technology that is at the heart of advanced digital products, from wireless, networking and consumer entertainment solutions to imaging, automotive, security and storage devices. ARM's comprehensive product offering includes microprocessors, graphics processors, video engines, enabling software, cell libraries, embedded memories, high-speed connectivity products, peripherals and development tools. Combined with comprehensive design services, training, support and maintenance, and the company's broad Partner community, they provide a total system solution that offers a fast, reliable path to market for leading electronics companies. Find out more about ARM by following these links:

ARM website: http://www.arm.com/

ARM Connected Community®: http://www.arm.com/community/

About TSMC

TSMC is the world's largest dedicated semiconductor foundry, providing the industry's leading process technology and the foundry segment's largest portfolio of process-proven libraries, IPs, design tools and reference flows. The Company's managed capacity in 2011 totaled 13.22 million (8-inch equivalent) wafers, including capacity from three advanced 12-inch GIGAFAB™ facilities, four eight-inch fabs, one six-inch fab, as well as TSMC's wholly owned subsidiaries, WaferTech and TSMC China, and its joint venture fab, SSMC. TSMC is the first foundry to provide 28nm production capabilities. Its corporate headquarters are in Hsinchu, Taiwan. For more information about TSMC please visit http://www.tsmc.com