ARM and GlobalFoundries show 2.5GHz 28nm Cortex A9 chip, 20nm chips tested
1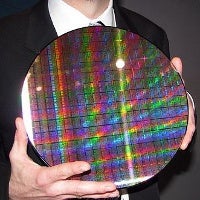 GlobalFoundries
, the world's third biggest independent semiconductor foundry announced that it has built a dual-core Cortex A9 chip on its own High Performance Plus 28nm technology and the tapeout of a 20nm Technology Qualification Vehicle.
The 28nm chip is capable of operating at 2.5GHz with a voltage of a pretty low 0.85V. While this is only a test chip, its specifications allow it to be implemented as a Cortex A9.
The second chip is also a huge milestone - it's a test chip, of course, and it could be used by vendors to make
Cortex A9 SoCs
.
Both the 28nm and 20nm test chips show that GlobalFoundries is keeping a stable momentum in manufacturing technology, but also serve to fortify its partnership with ARM. Still, it seems that GlobalFoundries is still slightly behind
TSMC
which is already mass producing 28nm chips, but what's sure is that competition is certainly only going to grow next year as we start to see the first real products with the new chips.