ABI: Phablet market to reach 208 million by 2015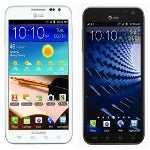 Did you know that the Samsung Galaxy S III is a phablet? That is according to ABI Research. The firm defines a phablet as a device
with a screen that ranges between 4.6 inches and 5.5 inches
, which would certainly cover the 4.8 inch screen on the Samsung Galaxy S III. The term was first coined to describe the
5.3
inch Samsung GALAXY Note and we wonder if API's definition is too broad. Nonetheless, based on API's criteria, the research firm sees the
phablet market hitting 208 million devices by 2015
. This year, the number of phablets shipped will be 10 times the number from 2011.
the 3.5 inch screen was considered large
. To put things in perspective, the 2.81 inch interior and exterior screens on the LG Voyager were much smaller and yet were characterized back then as being "generous". Most smartphones and featurephones went about as large as
3.2
inches except for Apple. Finally, the HTC HD2 launched overseas in November 2009 with a 4.3 inch display and that was considered to be enormous. By March 2010,
the device had hit the U.S. market thanks to T-Mobile
.
The 4.3 inch screen became the top size for some until
the Samsung Infuse 4G broke the barrier in the States with a 4.5 inch screen
a little over a year ago. But even that would not be enough to qualify as a phablet. That category features the Samsung GALAXY Note, the Samsung GALAXY Nexus, the Samsung Galaxy S III, HTC One X and the HTC EVO 4G LTE to name a few. Other models from LG and Huawei that will launch this year,
will also be in the phablet category
.
With this surge in handsets carrying such large screens, it should be interesting to see if the 5.3 inches of the Samsung GALAXY Note becomes the new ceiling for now or will someone try to top even that?
"One of the chief drivers for phablets is the amount of time people use their smartphones for web browsing, reading articles and newspapers on the go, or simply navigating their journeys. The larger screen sizes make a significant difference to the user's experience when compared to conventional-sized touchscreens between 3.5 to 4 inches."-Joshua Flood ABI Senior Analyst
source:
ABIResearch
via
Engadget