A study claims that AT&T has 60% faster cellular speed compared to Verizon
15
A few days ago AT&T announced that of all its coverage,
80% is HSPA+
, that automatically makes it
the largest HSPA+ network
– it covers 180 million people compared to T-Mobile's 140 million. Well, so much for
T-Mobile's campaign
that it has America's largest 4G (read HSPA+) network. Now a US-wide study conducted by
Global Wireless Solutions
claims that AT&T is the leader when it comes to cellular speed among all US carriers and that its dropped calls ratio is one in 1000 calls.
It's important to take into account that the neutrality of this study is dubious at best, since in the past
GWS
has been paid by AT&T to test the latter's network. Nevertheless, according to
Global Wireless Solutions
, the closest competitor (which is actually not named) when it comes to cellular speed is 20% behind AT&T, while Verizon, the largest US carrier, was 60% slower on average. Furthermore, this research claims that only 1 in 1000 calls is dropped when using AT&T's network and we're sure that a few people may disagree with these findings, as some key metro areas – like New York and the San Francisco Bay Area – are known to suffer from high rates of dropped calls.
To make the study one bit more unreliable, the research doesn't provide the exact speeds that different cities and regions achieved. All in all, we would be very diplomatic and say that we're not entirely convinced by this study. Actually, this may be a new kind of wireless network advertisement – scientifically backed claims that are extremely untrustworthy.
source:
Electronista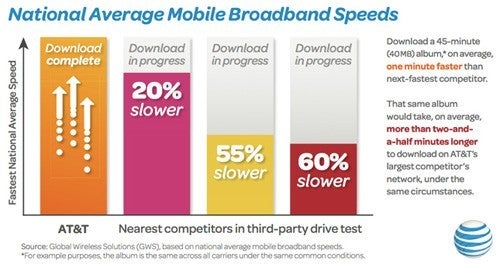 Recommended Stories