AT&T says it could be America's largest 4G network
11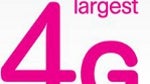 We earlier reported about T-Mobile's new aggressive ad campaign with the tag line, "America's largest 4G network". As we have discussed, this is based on the carrier's HSPA+ network capabilities of churning out 21Mbps in an area covering about 140 million Americans.
Now comes word from AT&T that its HSPA+ network is not capped at 14.4Mbps, but is also capable of the same 21Mbps as T-Mobile. Even more interesting is that AT&T's HSPA+ coverage reaches 180 million people. Therefore, if T-Mobile can call their service "4G", AT&T should also have that right. And at last check, 180 is more than 140 which would make AT&T the owner of America's largest 4G network.
In an e-mail to Phonescoop, AT&T writes, "T-Mobile's claims about 4G are based on the same HSPA+ technology we have deployed to 180 million people today, more than T-Mobile's reported 140 million, and we'll have it rolled out to 250 million people by the end of this month, substantially more than the 200 million T-Mobile says it will have by year-end."
While the nation's fourth largest carrier offers two HSPA+ enabled devices, the T-Mobile G2 and the T-Mobile myTouch 4G, AT&T has only a USB modem that can use the HSPA+ pipeline. In fact, AT&T has no handset that is capable of running at faster than 7.2Mbps although they have hinted that this could change.
Will AT&T quickly put together an HSPA+ enabled handset and call it a 4G phone? Will T-Mobile pull its new ads after just a few nights of airing? One thing for sure, with the fierceness that T-Mobile used in its ad, we wouldn't expect AT&T to just let this matter slide.
source:
Phonescoop