A 'high-end' Google Nexus tablet made by HTC is coming in Q3, claims Taiwan media
22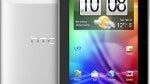 Taiwanese media is abuzz with speculation that HTC has won the bid for a Google Nexus tablet coming in Q3.
Nexus One
was made by HTC, and given the increasing rumors that
Google might nix the line
, it could be giving HTC a shot at the wind-down editions, too.
The supposedly "high-end" tablet by HTC was neither confirmed nor denied by the company, which sent out the usual boilerplate reply that it doesn't comment on market rumors. HTC didn't have much succees with its
Flyer
and
Jetstream
tablet efforts back in the day, which had a fine design, but essentially priced themselves out of the market.
Google let 2013 pass without releasing any flagship 10-incher, and if the rumor pans out, it might mean that Android will meet 2014 with a renewed focus on tablets, which is arguably the weak point of the mobile OS at the moment.