A bunch of user manuals for Verizon's upcoming phones
6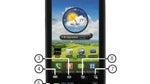 Last week
we showed you
that several new phones were about to be launched by Verizon Wireless on November 11th. In preparation for big day, Verizon has already posted the user manuals for some of the phones, including the 360 degree views. One of the more interesting phones coming out on the 11th is the
Samsung Continuum i400
, which is the newest Galaxy S phone, and will feature two Super AMOLED displays on the front. The main display will be 3.4" with a 480x800 pixel WVGA resolution, while the ticker display at the bottom will a smaller 1.8" 96x480 pixel resolution. According to the user manual, the ticker will show notifications for incoming calls, new messages and emails, social networking updates, and some functions with the music player and VZ Navigator. There is also a "grip sensor" on either side of the ticker display that is used to wake it up from standby mode. Other features of the Samsung Continuum include a 1GHz Hummingbird processor running Android 2.1 with TouchWiz 3.0, a 5MP autofocus camera with LED flash and 720p video recording, DivX video playback, 3.5mm headset jack, Wi-Fi 802.11 b/g/n, EVDO Rev A, Bluetooth, 2GB of internal memory (384MB RAM / 512MB Flash), and will come with an 8GB microSDHC card pre-installed.
The
Motorola CITRUS WX455
is an entry-level smartphone and is manufactured from 25% post-consumer recycled plastic and will come with Android 2.1 and 7 home screens on board and will feature a 3" 320x240 pixel QVGA display, 3MP camera, Wi-Fi, EVDO Rev A, Bluetooth, 2GB microSD card pre-installed, and will also make use of the Microsoft Bing Search and Bing Maps. There is also something quite unusual on the CITRUS called a "Backtrack sensor" that is on the back of the phone next to the camera. It acts like an optical navigation pad, so you can move your finger around on it to control the cursor on the screen. It also has the option to be turned off.
The
LG Cosmos Touch VN270
is an update to the
Cosmos VN250
. As the name implies, the Cosmos Touch will feature a 2.8" touchscreen on the front, similar to the enV Touch, through we're not sure yet if it will be capacitive-sensitive or resistive-sensitive. Also included is the sliding QWERTY keyboard, 1.3MP camera, 3.5mm headset jack, Bing search, Bluetooth, and a microSD memory card slot. There is also an updated music player, but it is unclear if it can be used in the background.
Lastly, the
Samsung Zeal U750
is only a minor update to the
Samsung Alias 2 U750
(notice both share the same model number). The Zeal is a bit darker in color on the front of the device, and will now come with Skype Mobile and will support 32GB microSDHC memory cards. But other than that, the rest of the features remain the same, such as the two displays, E-Ink keyboard, and 2MP camera.
So out of these phones, which are you most interested in?
Samsung Continuum User Manual
(PDF) |
360 degree view
Motorola CITRUS User Manual
(PDF) |
360 degree view
LG Cosmos Touch User Manual
(PDF) |
360 degree view
Samsung Zeal User Manual
(PDF) |
360 degree view
Motorola DROID PRO 360 degree view
Motorola DROID 2 Global White 360 degree view