Verizon to launch the Motorola CITRUS, Samsung Continuum and Zeal on Nov 11
13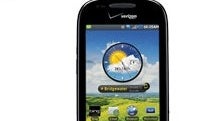 A few days ago
we showed you
the the November rebate form for Verizon with a bunch of new devices that should be out by the end of the month. One of our tipsters just sent us some information showing that a trio of these will be released on Nov 11th, the
Motorola CITRUS
,
Samsung Continuum
, and Samsung Zeal. The detailed specs of the Motorola CITRUS WX455 show that it is manufactured from 25% post-consumer recycled plastic and will come with Android 2.1 and 7 home screens on board and will feature a 3" 320x240 QVGA display, 3MP camera, Wi-Fi, EVDO Rev A, Bluetooth, 2GB microSD card pre-installed, and will also make use of the Microsoft Bing Search and Bing Maps. As expected, the CITRUS will be an entry-level Android Smartphone.
Next up is the more interesting Samsung Continuum i400 which is the newest Galaxy S smartphone running Android 2.1 with a 1GHz Hummingbird processor. It will feature a main 3.4" 480x800 WVGA Super AMOLED display at the top and a smaller 1.8" 96x480 'ticker' Super AMOLED display at the bottom for showing alerts and messages without having to use as much battery. Also included is a 5MP autofocus camera and LED flash that supports 720p video recording, DivX video playback, 3.5mm headset jack, Wi-Fi 802.11 b/g/n, EVDO Rev A, Bluetooth, 2GB of internal memory (384MB RAM / 512MB Flash), and will come with an 8GB microSDHC card pre-installed. Even though it has Android 2.1, it appears that Samsung's TouchWiz 3 will be used (like on the Fascinate) with widgets and skinned user interface.
If you aren't looking for a smartphone and are a fan of the
Samsung Alias
and
Alias 2
, there is will be the Samsung Zeal. But other than the name change, the Zeal and Alias 2 have similar specs with an E-Ink QWERTY keyboard, a 2.6" 240x320 QVGA display that can be opened in portrait or in landscape mode, 2MP camera, Bluetooth, and a microSD card slot. At this point, we're not sure if the Zeal will have anything different from the Alias 2, as both use the same U750 model number.
We'll keep you updated if we hear any news on pricing for the Motorola CITRUS, Samsung Continuum and Samsung Zeal.