A 4.7 inch Apple iPhone 6 is compared size-wise with a current batch of heavyweight Android models
63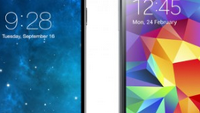 With speculation that
Apple will be launching one, and possibly two, larger screened iPhone models this year
, how would these phones stack up against today's top Andorid handsets? First, some background. Apple is expected to offer a 4.7 inch version of the
Apple iPhone 6
with a 16:9 aspect ratio. And while there is a rumor about a 5.5 inch phablet sized iPhone,
this device apparently is being delayed to 2015
as Apple cannot seem to find a supplier that can offer a 2mm thin battery for the larger phone.
So at the very least, it seems that Apple will release a 4.7 inch Apple iPhone 6 later this year. How would such a model stack up against current Android fare? A
MacRumors
forum member who goes under the handle
deuxani
, decided to create a picture of a 4.7 inch iPhone 6, and just as in a police line-up, let the witnesses decide if the phone is guilty.
The first line-up features the 4.7 inch iPhone against the similarly sized 4.7 inch
Motorola Moto X
and the 4.7 inch
LG G2 mini
. Despite the fact that all three phones have the same screen size, it is the Apple device that towers above the two Android handsets. A 4.7 inch Apple iPhone 6 would seem to match up better with a pair of LG made models: The 5 inch
Nexus 5
and the 5.2 inch
LG G2
.
Lastly, a 4.7 inch Apple iPhone 6 would look puny in between the 5 inch
HTC One (M8)
and the 5.1 inch
Samsung Galaxy S5
. It will be interesting to see if Apple makes other adjustments (form factor, footprint, bezels) if it does introduce a larger screened Apple iPhone 6 later this year, as expected.
source:
MacRumors