A 10-minute episode or 5-minute talk show? DreamWorks founder seeks $2 billion from Apple for 'New TV'
4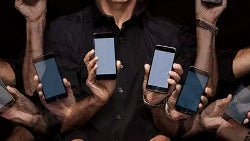 DreamWorks Animation founder Jeffery Katzenberg is on the prowl for $2 billion in unmarked cash, and reaching out to Apple for the dough. We kid, but Mr Katzenberg's idea has surely attracted attention over at Cupertino. Apple is looking for a way to enter the lucrative TV series, video on demand, and talk show business, leveraging its vast global reach. Its efforts to launch a TV service met with resistance, so Apple must now think outside the box, and the DreamWorks founder has just the recipe.
The idea is called New TV (here we kid you not), and essentially consists of shorter video formats, meant to be watched on mobile, and aimed at the ADD generation of 18 to 34-year-olds. The New TV's series episodes will be about 10 minutes long, while talk shows may be capped at five, with short news bursts of about two minutes. That sounds like a recipe for success with today's attention spans... or disaster, if you look at how Twitter's short form expression turned out to bring us a forum full of one-liners, zingers and hatemongering. At the envisioned $125,000/minute cost, though, the New TV project is sure to attract some top creative talent to figure it all out.
Apple has a lot of cash to throw around, and with Jeffrey Katzenberg behind the project, it might just give it a go, and see what sticks. It should hurry, though, as the ex-DreamWorks chief is pitching his New TV initiative to a lot of other Silicon Valley entities. Not all of them have $2 billion just lying around for a TV concept that is yet to prove itself, however, so Katzenberg chumming with Tim Cook and Eddy Cue at the Sun Valley media congregation last week might not have been a coincidence. Furthermore, how many times have we watched something that struggled to fit content to the preset half an hour or an hour for TV episodes, and two hours for a movie? Watching video on mobile is on the rise, as you can see in the chart below, and Apple might just as well take advantage of it.