9.7-inch Samsung Galaxy Tab S2 with Verizon LTE clears the FCC
6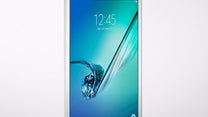 The FCC's database is a very special place. It is where information about all sorts of electronic devices is being published, and sometimes before they're even announced. Here's a fresh example: we just came across a tablet, which we assume to be a
Samsung Galaxy Tab S2
variant headed for Verizon.
Here's the evidence we're basing our assumption on. First and foremost, the tablet is listed under the model name SM-T567V, and the V suffix indicates that it is a Verizon device. Also, the tablet supports LTE bands 2, 4, and 13, which are all in use by Big Red. Further revealing the identity of the device are the sketch of its back side and its listing on Zauba, the latter being an import/export database for India.
Samsung announced the Galaxy Tab S2 9.7-inch several weeks ago, alongside a smaller model, boasting an 8.0-inch screen. Size and weight are key selling points for both devices as they're the thinnest and lightest tablet devices of their respective size. Both are just 0.22 inches (5.6 millimeters) thin, which makes them 0.02 inches (half a millimeter) thinner than the already super-thin
iPad Air 2
. As for their weight, the 9.7-inch Tab S2 weighs just 13.7 oz (389 grams), and the 8-inch model tips the scales at 9.35 oz (265 grams).
In terms of specs, the Samsung Galaxy Tab S2 9.7-inch is quite a beast. It boasts a 2048 x 1536-pixel Super AMOLED display, a powerful Exynos 7 Octa 5433 SoC with eight processor cores, and 3GB of RAM. Throw in the 8MP camera, the expandable 32GB of storage, and the 5,870mAh battery in the equation and you end up with one of the top Android tablets money can buy right now.
Speaking of which, the 9.7-inch Samsung Galaxy Tab S2 isn't cheap. We're expecting the Verizon model to cost about as much as an LTE-capable iPad Air 2, but that's just a guess at this point. Neither Samsung nor Verizon have officially confirmed that the tab is launching anytime soon. But given the evidence, we'd say that an official confirmation may arrive in the coming weeks.