7 hopelessly romantic (and spicy) Valentine's Day tech gifts for your loved one
7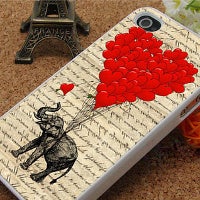 It's Valentine's Day and on this special day even us, geeky, glass-wearing souls, crave some love, peace and quiet with that other special person who shares (hey, or at least tolerates!) our passion for Android, custom ROMs, launchers, polycarbonate (we kid, we kid), or whatever it is we're so passionate about. But wait, you have to bring a gift with you tonight too, don't you?
Don't let panic settle in - here's our special collection of 7 hopelessly romantic V Day tech gifts that will break the cliche and (hopefully) bring a smile on someone's face.
And for those who want to spice things up, we have some smart wearables, and other fun ideas. Whatever you do, remember that a gift does not need to be expensive to be appreciated, and it's the attention that we most value after all. Happy Valentine's Day!
Valentine's Day tech gifts for your loved one