7 classic phones with eye-catching design
25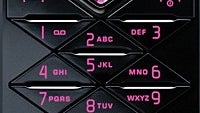 Nowadays, we can hardly be surprised by how a certain handset looks. Most devices come in the candybar form-factor that works so well with large touchscreen panels. And while that's all good, it also means that some of the color and extravagancy of the market has been lost along the way. While casual observers might even be having a hard time distinguishing most phones from one another these days, we'd like to remind our readers that it didn't use to be like this. There was a time, not that long ago, when companies were trying to attract our attention with visually impressive products, with some truly different, eye-catching and forward-looking exterior designs.
From time to time, we tend to drift away in our thoughts, remembering some of the more peculiar handsets that hit the market in relatively recent history. Then, we remind ourselves how awkward using some of those devices was, so we immediately remember how grateful we are for having the superphones that we have today... but boy do we miss those fancy appearances! OK, let's pay a visit to nostalgia-land and take a few minutes to feast our eyes on some of the beautiful products that once made the mobile market such a fun place to be. In no particular order...
LG Crystal
Launched in June, 2009, the LG Crystal was not a smartphone, but was a stylish slider phone with a very special twist: its numeric keyboard was transparent! Yep, one could actually see though the device's keypad - how cool is that? Of course, it didn't enhance anything in terms of function, and probably made using the phone a tad more cumbersome than if it was with a normal keypad, but hey, that's the price you have to pay for... well, a transparent keyboard.
Nokia 8800 Arte
The Nokia 8800 Arte was an elegant and even luxurious slider. Specs-wise, it wasn't anything extraordinary, even for its time - with a 2" QVGA screen and a 3.2 MP camera, the 8800 Arte was your average dumb-phone, but its quality exterior made it special - an appealing combination of stainless steel, glass and chrome framing. Yummy!
LG New Chocolate
Can you think of any other phone with such elongated bar design? Such gems are very few and far between, so it's a great pleasure for us to remember the LG New Chocolate. A 4" display with resolution of 345 x 800 pixels - now that's something new! Or is it old? Oh well, we guess it's quite old since it was released in 2009, but nevertheless, it looks just as cool today!
Nokia Prism 7900
Now, check this baby out - the Nokia Prism 7900! A standard keypad-loaded candybar made fun! We know what you're thinking - this design is quite... prismatic, and we have to agree. Then again, we guess that's the whole point. A 2" OLED display adds some icing to this cake of novelty.
Motorola AURA
Positioned in the super-expensive price segment, the Motorola AURA was an enigmatic handset that possessed a rather intriguing asset - a round display! Too sci-fi for your taste? Well, it probably is, but we can't have a list like this without mentioning this extravagant phone.
Motorola RAZR V3
Ah, now we're talking! A phone that will remain in history books as one of the most successful and gorgeous handsets of all time. Sure, it may not be anything to write home about in the specs department, but that metal design man, so thin and sexy!
Sony Ericsson Xperia Pureness
We'll wrap things up with this most peculiar phone - the Xperia Pureness by Sony! Sorry, we meant Sony Ericsson. Back when the whole world was collapsing for any phone manufacturer not named Apple, some companies insisted they should try and amaze us with technological innovations such as this here transparent screen. Well, it was obviously a bad move, but it's also something to be remembered, if only for being so different from everything else.