64GB Samsung Galaxy S III possibly canceled due to weak demand (not really)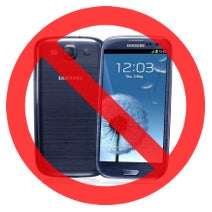 Reportedly,
Samsung is not going to release the 64GB Samsung Galaxy S III model
as online orders are now being cancelled. Word comes from an Expansys customer in the U.K. who is said to have received a message informing him that the manufacturer
"has decided not to release the unit"
.
That is not necessarily earth-shattering news, however. After all, the
Samsung Galaxy S III
has a microSD card slot, so a user who demands extra storage can always purchase a microSD card separately. Besides, doing so would cost less than getting a 64GB model anyway. Perhaps Samsung has decided that the demand for 64GB of on-board storage is not sufficient to justify producing the model.
In the U.S., carriers are stocked on the 16GB Samsung Galaxy S III, but a 32GB model is a bit harder to get, while the 64GB one is nowhere to be found. The latter model is not listed on BestBuy or Amazon either, as we discovered. Overseas, some third-party retailers are still accepting pre-orders for the 64GB Galaxy S III, although it won't be surprising if the device gets removed from their listings in the near future.
Samsung has yet to announce officially whether the 64GB Galaxy S III will ever see the light of day or not, but given the evidence, chances of that happening aren't too high. But is anyone really bothered by that? Let us know what you think by dropping a comment.
UPDATE:
Samsung has spoken on the matter:
"The 64GB model of the GALAXY S III will be available during the second half of this year.The market availability and timing may vary and will be determined at the time of release."
Note that we still don't know whether the 64GB model will be sold through U.S. carriers.