64-bit Android phones are coming for Christmas says ARM executive
40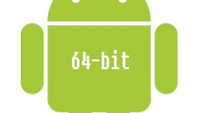 Executives of chip manufacturing companies are a bit surprised (no pun intended) at the speed in which 64-bit processing is coming to Android phones. Even ARM has been caught unaware by this move. Originally, the company figured that 64-bit technology would first be seen on corporate servers. Instead, after
Apple introduced 64 bit mobile processing with the Apple A7 chipset
that currently powers the
Apple iPhone 5s
,
Apple iPad Air
and the
Apple iPad mini with Retina display
, the road map has taken a rather sharp detour. Mobile consumer devices are now the recipient of the advancing technology.
Tom Lantzsch, ARM's executive vice president of corporate strategy, expects Santa to be dropping off under the Christmas Tree, the first of the 64 bit Android handsets. While the chips and phones could be ready for 64 bit processing by Christmas, it is unknown when a version of the Android OS will be ready. Lantzsch says that even existing 32 bit code will run better on ARM's 64-bit v8-A architecture. "
The architecture itself allows for more efficiency in the code. So, that means better battery life, quicker responsiveness, better features
," the executive says. " And once 64-bit software arrives, "
There will be early adopters. The applications with the most need will certainly go first. And then the rest will come over time
."
"Certainly, we've had big uptick in demand for mobile 64-bit products. We've seen this with our [Cortex] A53, a high-performance 64-bit mobile processor...we've been surprised at the pace that [64-bit] is now becoming mobile centric. Qualcomm, MediaTek, and Marvell are examples of public 64-bit disclosures."-Tom Lantzsch, EVP of corporate strategy, ARM
source:
ARM
via
CNET