6-way blind camera comparison: the results
99+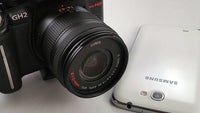 Okay, guys, teasing time is over. Today we're revealing the results from our latest blind camera comparison, as well as the identities of all the smartphones that were used. A big "thank you" goes to everyone who cast their vote, and a 5 internets prize goes to those eagle-eyed few who named the handsets correctly in the comments!
(
In case you've missed the first post in our blind camera comparison, here it is.
)
Perhaps you're all wondering which device we attached the mysterious
Phone #4
moniker to. After all, that's the smartphone that got most of you guys' votes – in all three categories, for that matter. Well, it's actually a device we're quite familiar with, namely the
iPhone 5
. Yup, it was Apple's pride and joy that delivered the most eye-catching results thanks to its capable 8-megapixel camera.
Then right after it came
Phone #5
, which got second place in all three categories. The
Samsung Galaxy S4
was behind that codename all along, with its supercharged 13MP camera.
Phone #1
was the good ol'
Samsung Galaxy S III
, which you, guys, picked as the third most capable outdoor snapper and video recorder. In the indoor capturing category, however, the former flagship finished in last place.
The
Nokia Lumia 920
was known as
Phone #6
during our testing and got the respectable third place in both our outdoor and indoor tests. Its videos were ranked in fourth place.
Behind the
Phone #3
codename was the
HTC One
, which didn't really impress many of you with its UltraPixel camera. The smartphone finished in fourth place in the outdoor category and sixth indoors, while its video capturing skills got it fifth place.
Last but (almost) not least we have the
Sony Xperia Z
, which we called
Phone #2
during the blind comparison. It finished in last place in both outdoor and video categories while its indoor shots were ranked in fourth place.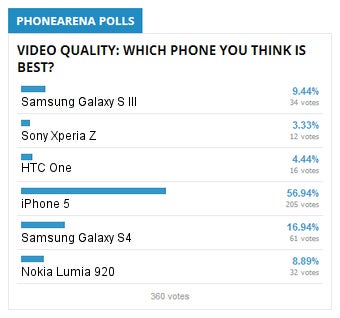 Again, here are the devices we used and their respective codenames: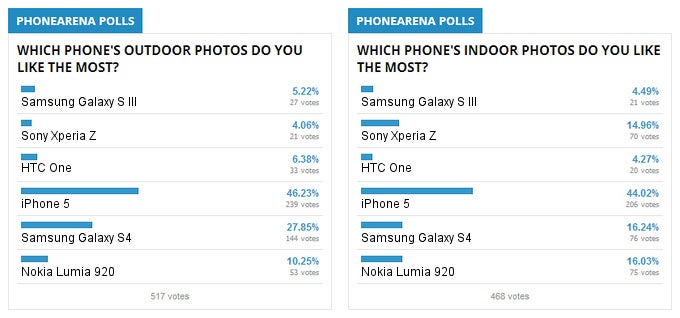 OS software versions on the units used for the comparison:
Nokia Lumia 920 – Windows Phone 8, Build number: 8.0.10211.204
Samsung Galaxy S III – Android 4.1.2, Build number: JZO54K.I9300XXEMB5
Sony Xperia Z – Android 4.1.2, Build number 10.1.A.1.350
HTC One – Android 4.1.2, Build number 1.28.401.7
Samsung Galaxy S4 – Android 4.2.2, Build number: JDQ39.I9505XXUAMC6_CSB
iPhone 5 – iOS 6.1.3