6-inch HP Elite x3 aims to invigorate Windows 10 flagships, supports Continuum
29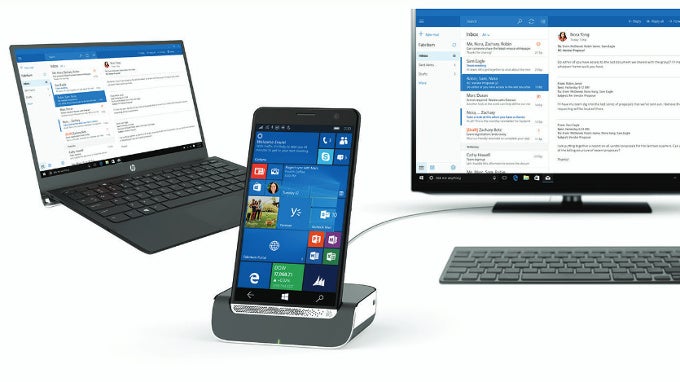 The HP Elite x3 is the newest member in the Windows 10 Mobile fleet: a gigantic, 5.96-inch phone, it's a device built for business, running on the latest and most powerful Snapdragon 820 system chip.
Best of all: it has full support for Windows 10's awesome Continuum feature, which allows you to use the phone to power up a larger display. HP brings its own Desk Dock that makes it easy to connect an external monitor via DisplayPort and start working on that big screen. Then, there is the HP Mobile Extender, a 12.5-inch HD screen laptop shell that is just under 2.2lbs (1kg). You dock the Elite x3 in the Mobile Extender and it comes to life as a Windows laptop, with all of your data still stored on the Elite x3 phone that powers it. And yes, you can use a mouse and a keyboard when your Elite x3 is connected to an external monitor via the Desk Dock, or to the Mobile Extender laptop shell.
"On its own, it's an impressive device, but the real breakthrough is the Elite x3 accessory ecosystem, which drives a seamless experience across computing platforms, and offers a solution beyond BYOD and towards mobile workflow transformation,"
said Tom Richards, chief executive of CDW, one of HP's partners for the Elite x3.
In terms of design, though, the HP Elite x3 is decidedly uninspiring with its plastic body and rather generic design. HP seems to have really built this for business, where looks take a secondary place to functionality. But what about the specs?
Here is a quick look at the most important specifications of the HP Elite x3:
HP
Elite x3
Platform
Windows 10 Mobile
Dimensions
161.8 x 83.5 x 7.8mm, 195g weight
Display
5.96" QHD AMOLED (1440 x 2560)
SoC
Snapdragon 820
RAM
4GB LPDDR4
Cameras
16MP rear cam
8MP front cam
Storage
64GB
with microSD support
Extra features
Iris scanner, fingerprint scanner, 2 stereo speakers (one built in the earpiece), USB Type-C, wireless charging
64GB of internal storage, and both an eye scanner and fingerprint reader
It's commendable that HP equips the Elite x3 with a generous 64GB of internal storage, this is double the standard on Android flagships, and four times as much as you get on the base iPhone 6s model. It's also nice that HP uses a hybrid SIM card slot here: you can use the phone as a dual-SIM device, or use the second SIM card slot as a microSD slot and further expand the storage with your own card.
It's also nice to see dual stereo speakers on this phone. The number of speakers alone is not guarantee for good sound quality, but it's a great start. It's worth noting that the phone charges and connects to the HP Desk Dock via the new USB Type-C standard, and it supports wireless charging.
Built for business, secure
So what does built for business mean when we speak about the HP Elite x3? Frist, the phone supports HP Workspace, an app catalog made by HP to provide access to virtualized apps. HP Workspace creates a virtual PC, so that users have access to company curated catalogs of x86 apps via a virtualized solution.
Then, the phone is secure with iris eye recognition and a fingerprint reader, so you can choose which authentication method to use. We have tested eye recognition on the Lumia 950 and 950 XL, and while it did work most of the time, it was a bit slow and not very consistent, plus it required you to bring your phone way too close to your eyes to work. We're definitely glad to see a fingerprint scanner on board as well, as this is a faster and more convenient way to keep your phone secure.
Then, there are various encryption standards that the HP Elite x3 supports: FIPS 140-2 cryptography, SecureBoot, 128-bit key Unified Image Encryption, 256-bit key Full Disk Encryption, Anti roll back and fTPM 2.0 security, and then Windows 10 includes 128 key Bitlocker encryption and Enterprise grade VPN.
source: HP