6 great phones with removable batteries
43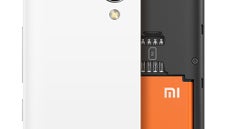 With its latest
Galaxy S6
and
Note5
highlanders, Samsung finally threw in the towel, and joined the movement that sealed off access to the battery compartment of current Androids. Phones with removable batteries are becoming a rare commodity these days, especially good ones with a swappable juicer, as flagships are increasingly turning their attention to the slim and premium design paradigm.
A lot of folks still prefer smartphones with removable batteries, though, and for various reasons, chief among which is the possibility to carry a charged spare in your wallet when you will be away from the plug for a while. Granted, you can carry a power bank or a battery case, too, but it's not the same thing, as you either have to wait for the charge to trickle in, or the phone gets bulky and uncomfortable to handle. The spare is easy to carry, plug-and-play, and can be swapped within a few seconds when the original juicer dies down.
Furthermore, instead of improving on battery life, manufacturers are standing still or actually regressing this year. That is why we are rounding up a few of the best phones with replaceable batteries you can get right now, for those who are into it. This list used to read like a who-is-who of Samsung phones, but a few others are trying to wiggle into that marketing niche now.
Xiaomi's newest value-for-money warrior in the big screen fight is not the best of the present bunch in terms of specs, but it offers removable battery, dual regular microSIM slots, and a separate microSD slot - the ultimate in flexibility. It also puts the fast phase detection focusing technology in a sub-$200 phone, and you simply can't go wrong with a 5.5" 1080p display, Helio X10 chipset, 13 MP/ 5 MP cameras, IR blaster, and a 3000+ mAh battery at this price tag. It can be had for about $220 over at Newegg now, for the 32 GB version.
The Galaxy Note 4 should be on the top of your list when shopping for a phone with a removable battery, too, as it might just be the high-end Android phablet with an accessible battery compartment, given the current trends, Samsung included.
The LG G4 uses a high-res Quad HD display that is not of the power-sipping variety, hence its battery life is not all that, even though it does come with a hearty 3000 mAh juicer, just like its predecessor. LG, however, has equipped its 2015 darling with a swappable battery, and even throws in a second juicer in the box, depending on the region you buy the G4 from.
The paper-thin rear cover of the Galaxy Alpha makes it seem almost a sealed-battery phone, but don't be fooled. A "merely" 720p 4.7" display means you are getting a pretty good battery life out of the 1860mAh juicer, and still you can carry a spare and last a whole weekend away from the outlet with the Alpha. In addition, you will be getting a snappy processor, and a great 12 MP camera with phase-detection autofocus.
Not only did Microsoft equip its first Windows 10 Mobile phones with the latest and greatest in screen, processing and camera technologies, but it also provided removable back covers that give you access to the battery units - a 3000 mAh unit for the 5.2-incher, and a 3340 mAh one for the 5.7-incher, both with Quad HD resolution and 20 MP cameras with OIS.