6 cool things you can do with an old smartphone instead of getting rid of it
21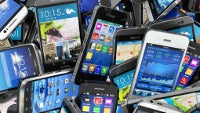 Smartphones, being a fairly new sector in tech and still evolving on, one could say, a monthly basis, can sure become obsolete fast. A device that was top-notch last year is "adequate" this year, "usable" a year after, and "long due for upgrade" on the next. That's just how the cookie crumbles when it comes to new tech, we guess, as the same was true for PCs back in the '90s, when they were slowly becoming the mass-produced consumer item that they are now. Computers made great strides year over year until they reached the point when you can purchase one with the peace of mind that, given you've made the right choice, it will last you around 5 years easy, maybe more, with some proper maintenance.
So, with every upgrade cycle for our handsets, we could often end up with a 2- or 3-year old device (or a few, if you happen to do the shopping for the family) that could sometimes be so scuffed that attempting to resell it for peanuts may just not be worth the effort. Other choices include throwing it away for recycling, which is a great idea with the rate factories are churning out smartphones nowadays, or sticking it in a drawer to keep it as a backup, or until we can find a use for it.
Well, if you fall in the latter group and happen to have an old iPhone or Android smartphone or two laying around, you may find one of the following uses a good idea.