500px returns to the Apple App Store with three fixes
5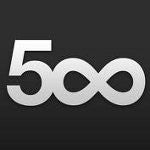 A few days ago, after complaints that pornographic images had showed up on photographic website 500px,
Apple removed the popular app from the App Store
. Now, the popular site has returned after 500px made some changes that were requested by Apple. The first change prevents those naughty users from searching for explicit photographs. Those who search for the terms "porn" or "nudity" will receive zero responses. Also, there is now a way for users to report inappropriate pictures, and the app currently has a new age rating of 17+.
images involving child pornography
which gave Apple no other option but to remove the site. Tchebotarev also added that Apple has not turned over to him any evidence of child pornography on 500px and has also failed to show him evidence of the offensive pictures that Apple mentioned in its statement last week.
500px does not allow pornography on its site and will renove the account of those who post it. Still, the site does allow "photos of an artistic nature that contain nudity." Meanwhile, the Android version of the app was never affected.
source:
iTunes
via
GIGaom