500 New York City Pay Phones will be converted to free Wi-Fi kiosks by July
10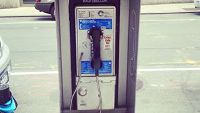 Back in November 2014 we told you that in New York City,
a program called LinkNYC
would convert 10,000 old pay phones to free Wi-Fi kiosks
. This month, the conversion process will begin, and by July the city expects to have 500 units up and running. When the project is completed, 7500 kiosks will be active providing Wi-Fi at speeds up to 1Gbps, much faster than the coverage provided by mobile carriers.
The Wi-Fi service won't force users to view ads before using it, and subscribers will automatically connect to the Wi-Fi signal after signing in the very fist time. The service will help some New Yorkers who don't have a broadband connection at home. 27% of New Yorkers were in that situation according to the most recent data from 2014.
Once upon a time, New Yorkers depended on pay phones to make calls away from the office, or away from home. The streets of Manhattan were lined with them, and occasionally lines would form at particularly busy locations. The rise of the mobile handset eliminated the need for pay phones, and this seems to be the perfect solution to replace them.
If there is a loser, it would be the wireless carriers. According to Craig Moffett, senior research analyst at MoffettNathanson, Verizon and AT&T stand to be hurt the most. In the short term though, the carriers might see their overcrowded pipelines get some relief as wireless users turn to these hot spots. Cable companies will also be competing with the kiosks as many of them have built hundreds of thousands of hot spots that their subscribers can use.
New York City stands to make some big bucks with the kiosks. The company that is running the project is CityBridge, a joint venture that includes Google and Qualcomm as partners. CityBridge will make money from selling ads on billboards that are on two sides of each kiosk. In between the screens will be an Android tablet that can be used to surf the web or make free phone calls. New York City will receive $500 million or 50% of ad revenue (whichever is greater) during the 12-years that the current contract runs for. To put that in perspective, in 2014 New York City took in $17.5 million in advertising revenue from its now expired pay phone contract.
The LinkNYC hot spots will be available in all five boroughs, and will provide a Wi-Fi signal within a 400 foot radius of each kiosk. Those with a smartphone or tablet will be able to use the kiosk to charge their device.
source:
WallStreetJournal
Recommended Stories