5 things that make Apple Pay unique
35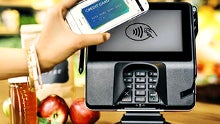 When we did
our first take on mobile payments back in 2011
, the field seemed so ragtag that nothing was guaranteed to work and become the de facto standard. Even then, however, all eyes were on Apple, and the assorted rumors that it is mulling a digital wallet system for the venerable iPhone line.
Well, yesterday this moment finally arrived, as Tim Cook unveiled the
Apple Pay
service, ready to take on the world. Asked whether he thinks he just killed the credit card, Apple's CEO chuckled in his characteristic way, and said "
I think we put a dagger in it
," in a fashion that must have sent chills down the spine of anyone smaller than Visa or MasterCard.
Now, don't get us wrong, these two payment processing juggernauts have mobile payment systems of their own, such as
Visa's payWave
, or MasterCard's
PayPass
, and don't get us started on the various carrier undertakings, such as
Softcard
in the US (formerly ISIS), or smaller initiatives like that of Paypal, or
Boku
. Google also threw its weight behind
Wallet
with limited success, and even Samsung put the new fingerprint scanner of the
S5
and
Note 4
to good use, in collaboration with PayPal.
Your head spinning yet? Well, none of these mobile payment systems has gained enough traction, as each is lacking some critical piece of the puzzle, be it the infrastructure, the devices, or simply the user's trust. Thus, Apple Pay has every chance to disrupt the mobile payment industry, and here is why.