5 of the best sandbox crafting games for Android and iOS, that are not Minecraft
2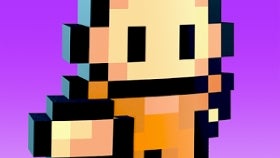 Are you tired of Minecraft, and the piles of Minecraft-inspired games? So are we, to be perfectly honest. Don't get us wrong, we still love creative sandbox games, and survival games. We also like immersive crafting mechanics. But why do we have to settle for the same theme, set as a de facto standard by Mojang?
We actually don't, since there are plenty other games that feature sandbox crafting mechanics one way or another. So, in case you're looking for a few solid suggestions, the list below is just for you.
The Escapists
Have you ever wondered if you have what it takes to break out of prison? Now you have the chance to check out for yourself. The Escapists made its way to mobile, after making a name for itself on PC and home consoles, and it's the ultimate prison escape simulator.
It features gorgeous pixel-art graphics, and extremely engaging gameplay which will make you stick to your phone for "just one more day", in order to advance your grand escape plan a bit more before you go to bed.
This War of Mine
Developer: 11 bit studios
Moving on from the slightly comedic approach of The Escapist, we go to a darker, but also quite enjoyable game. This War of Mine is not your average war game. You won't be the hero to save the world from the terrorist menace.
The game follows a group of civilian survivors, caught in a war zone with no way out and no help on the way. You will have to make some tough, and sometimes questionable, choices in order to keep the group alive and well in their war-torn city.
Mines of Mars
Price: Free (Android) | $4.99 (iOS)
Developer: Crescent Moon Games
Mines of Mars will place you in the shoes of a space miner, who is the sole survivor of an unfortunate shipwreck. Well, not actually wreck, considering the ship drops you off on the ground and just flies off, completely disregarding the fact that it's leaving its only living crew member for dead.
You will have to adventure through procedural mines and collect materials, in order to advance the story and find out why no one knew that there was life on Mars.
Island Survival
Island Survival is just what it sounds like. In the beginning of the game, you barely manage to escape a sinking ship with your life, and you end up on a lone island with nothing on you, but what you managed to grab on your way off the boat.
As the game's descriptions says,
"featuring randomly generated worlds, crafting, building, and mining, the world is yours to shape and explore."
If you can get past the fact that the graphics are a bit clumsy, Island Survival is a pretty good crafting game to pass the time.
Junk Jack
The last game on our list is the closest we'll get to Minecraft. However, it's more similar to Terraria, with its 2D side-scrolling gameplay. Despite the striking resemblance of the two games, we can't claim that Junk Jack is a clone, though, as it's a very well designed and polished.
Unlike Terraria, its focus is more on the building side, than the adventure one, and its pace is somewhat slower and calmer. So, if Terraria is a bit too hectic for your taste, you will probably find what you need with Junk Jack. Unfortunately, it's only available on iOS, so Android users will have to look elsewhere.