5 fun arcade games for Android and iOS to achieve the ultimate high score in
2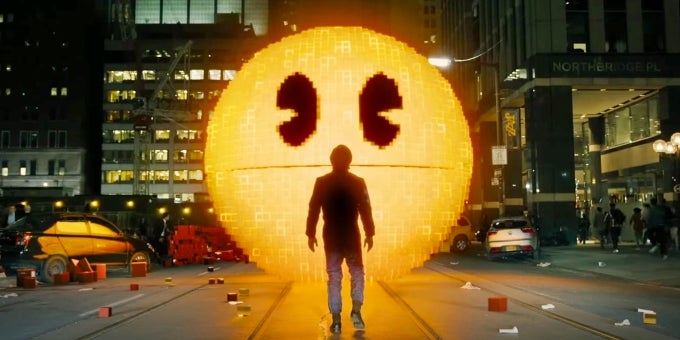 Arcade games offer some of the most fun you'll ever have with a mobile device. They are easy and quick to get into, visually exciting, entertaining, and hard to master. It's like combining the simple nature of early 90s Nintendo SNES / Sega MD hits with today's incredible achievements in graphics technology and game design. There's a lot to love in their frenzied pace, tricky gameplay, dazzling visual effects, colorful artwork, and nostalgic soundtrack.
The arcade spirit is alive and well, as you'll see for yourself in the selection of five games we've picked up and presented below. The variety of arcade games is large and diverse, so by no means is this fiver the be-all, end-all of what's available for playing out there. We'll be on the lookout for more exciting arcade titles to throw your way in the near future. But for now, spend some quality time with these cool games.
Asphalt Nitro
Race through Brazil and China in millionaire luxury cars at breakneck speeds!
You've played Asphalt 8, right? It's one of the finest, longest-standing mobile arcade racers in existence! But have you met its little brother? Asphalt Nitro offers the same high-octane action in a more compact package. You can sit behind the steering wheels of luxury licensed cars like the Ferrari LaFerrari or Lamborghini Veneno as you cruise down gorgeous environments (such as tracks in Brazil and China) and pull off wicked stunts like the Fast And Furious crew do on screen!
Your tires will meet the racing circuit in 8 different game modes, such as Gate Drift, Knockdown, and Police Chase – a crowd favorite that's back for the first time since the Asphalt series' early days. As you pound the pedal to the metal, you will reach hidden shortcuts that will propel you against the competition.
Geometry Wars 3: Dimensions
A modern classic with blistering visuals that's about shooting triangles at a frenetic pace...
Geometry Wars 3: Dimensions Evolved is a modern arcade classic that boasts gorgeous graphics and fast-paced gameplay. Featuring over 100 levels, spread over 15 3D grids and 12 battle modes (with colorful names like Pacifism, King, and Claustrophobia), the game will aid you in battle with 6 unique drones, equipped with devastating super-abilities (like Homing, Black Hole, Turret, and Detonator). There's a "Hardcore" mode for players who want a serious challenge, as well as online competition with global leaderboards for every level in the game. You don't want to miss out on this one, guys!
Sky Force Reloaded
A modern take on the tried-and-true aerial fighter concept with seriously impressive graphics!
When we're talking arcade shoot'em'ups, it hardly gets better than Sky Force. It combines the right arcade elements with the graphical and gameplay possibilities enabled by today's technology. Following up on Sky Force 2014's considerable success, Reloaded gives players more of the same good stuff, but bigger and badder! You will take on challenging missions, tackle powerful enemies, and defeat huge, overbearing bosses in epic battles.
Rendered in dazzling 3D graphics, SFR enriches its tried and tested gameplay formula with options to boost your planes' stats and upgrade your shields, guns, missiles, lasers, mega-bombs, and magnets. There's a number of them to choose from, and each has its different strengths and weaknesses. You will also collect achievements, unlocked by hunting for in-game buff cards.
Your final score will increase by completing in-game objectives, as well as rescuing civilians and fallen friends to win extra lives and stars. There's full voiceover and a lively electronic soundtrack to top things off. Best of all, the game is free to play!
Traffic Rider
Recklessly storm the highways and graze vehicles' paint with your chopper from a first-person perspective!
Nothing screams "arcade fun!" quite like a bicycle driving simulator. A fun and simple high-speed chaser, Traffic Rider gives you an up-close-and-personal motorbike riding experience. In addition to endless racing – that is, racing that ends whenever you want it to (or crash ingloriously) – there's a full career mode with over 60 missions, and the riding is orchestrated with real-life recorded bike sounds.
Motorcycle enthusiasts will be fond of the 24 motorbikes available to choose from, and they will be driving these along detailed tracks with day and night simulation. In addition, the game boasts online leaderboards and over 30 achievements. Reckless, but considerate driving is made more fun by the game giving you bonus scores and cash as you overtake vehicles in blazing speed, drive against traffic, and pull off wheelies. Sure sounds like fun, right?
Hitman: Sniper
Become Agent 47 and perfect your long-distance death delivery skills!
Firing a sniper rifle requires patience, timing, and a love for arcade games. If you hapen to meet the requirements, you're welcome to step in Agent 47's shoes and execute your targets from a distance. Being good at the craft involves skill, subtlety, stealth, subterfuge and using the environment to your advantage so you can complete your contracts. Moving through the game, you will unlock gun upgrades, compete against friends, and take over the leaderboards. You will also collect parts and assemble weapon blueprints, unlocking more powerful rifles and becoming a true marksman. Hitman contains over 150 missions that can be replayed with the potential to uncover more secrets and approaches for neutralizing the subjects.
ALSO READ