5 best online FPS (first-person shooter) games on Android and iOS (January 2017)
9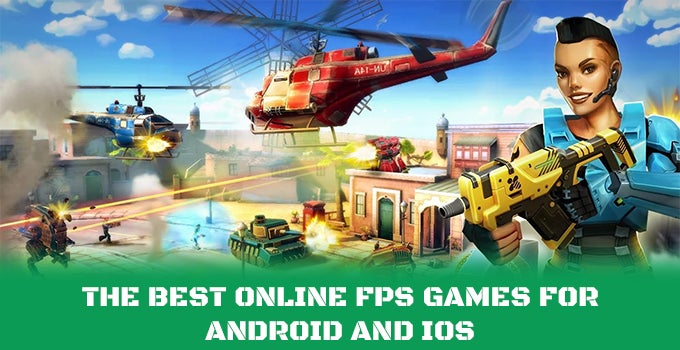 There are loads of great online first-person shooters out there,
loads.
No matter whether you're looking to blast other players online on alien planets in the distant future, or prefer to travel back to the battlefields of World War II, there is no shortage of games to satisfy your trigger-friendly fingers. Unfortunately for mobile gamers though, the majority of popular franchises representing the online FPS genre have been traditionaly available on consoles and PC only. However, in recent years, there have been more and more quality online FPS titles released for Android and iOS. In fact, there are so many out there these days, on both Google Play and the App Store, that you may find yourself at a loss in the sea of uninspired titles, generic screenshots, and false promises.
That's why we decided to explore the wilderness, weed out the countless copy-cats and cash grabs, and tell you which online shooters we found worthy of our time and money!
Bullet Force
Free, offers in-app purchases
Bullet Force is a mobile FPS that brings the excitement of online multiplayer franchises like Call of Duty to the palm of your hand. From the well-thought maps allowing for frantic skirmishes and tactical play, to the variety of game modes, customizable perks, and kill streak bonus extravaganzas, Bullet Force doesn't shy away from its inspirations and strives to translate the AAA features that console and PC gamers have been enjoying for so long over to smartphones and tablets.
Bullet Force handles very well using the on-screen controls, while also offering a fully customizable HUD for the most serious competitive players out there. It may seem a bit overbearing at first, especially if you're new to first-person shooters on touchscreen devices, but the control scheme becomes second nature after a few (dozen) matches.
Bullet Force also has a singleplayer component, although it serves as nothing more than a primer for the real deal – the online multiplayer. In solo play, you'll face off against bots on all of the game's maps, and although it isn't particularly exciting, it may offer you some much-needed practice before you head off to face fierce foes online.
Modern Strike Online
Free, offers in-app purchases
Much like other entries on our list, Modern Strike strives to bring the excitement of big console and PC franchises over to your smartphone, and as you can probably already tell by its name, Modern Strike draws inspiration from non other than the legendary Counter-Strike.
Modern Strike Online has offers players six classic game modes: deathmatch, team deathmatch, bomb mode, team squad battle with no respawning, hardcore, as well as custom matches for battling against friends. Where the game really shines though, is in team skirmishes where all the people in a team are able to coordinate well between each other. Unfortunately, the lack of voice chat doesn't help, but the maps are well-designed to perfectly facilitate 4 v 4 matches and you can see all your teammates on the mini-map.
The game includes in-app purchases, of which you can take advantage if you don't feel like waiting for certain weapon upgrades, but is fortunately well-balanced enough as to not make such purchases feel like a necessity.
Although not a brand new game, Blitz Brigade has become, and still remains, a staple of the mobile FPS genre. Reminiscent of Team Fortress 2, Blitz Brigade is a multiplayer-only affair which offers many of the familiar features that fans of Valve's F2P game have become to know and love.
Blitz brigade has a flexible control scheme that you can familiarize yourself with in its singleplayer component, but the real meat of the game is in its multiplayer. Players can step into the shoes of one of seven available character classes — Soldier, Gunner, Medic, Sniper, Stealth, Demolisher, and Engineer — and duke it out in 6 v 6 matches, using an arsenal of over 100 weapons, and a variety of powerful land and air vehicles to boot.
Oh yeah, there's also hats.
A lot of hats.
Another title that borrows somewhat liberally from the venerable Counter-Strike, Critical Ops caters to the more serious competitive players out there, but at the same time stays true to its mobile-first nature. Critical Ops is also cross-platform, meaning that up to 20 players on Android, iOS, and Facebook can duke it out against each other at any time.

Critical Ops is currently in open beta, and as such there's a lot that will be added to it in the following months. Despite this, however, the game has a very healthy and active player base, not the least thanks to its cross-platform nature, and offers a very polished and balanced online experience. There game is being updated with new weapon skins, maps, and features on the regular.

NOVA 3 is another staple of the online multiplayer FPS genre on mobile. Like other games on the list, it also tries to translate the grandeur of blasting enemies on a global terrain from the big screen, to the palm of your hand.
As can be expected from a game by veteran developer Gameloft, NOVA 3 presents players with both a singleplayer campaign, and a polished online experience. NOVA's singleplayer mode is more involved than what's on offer by other entries on this list, but it still serves as merely a primer for the fierce online battles.
Up to 12 players can join online matches in one of 6 multiplayer modes, including staples such as capture the flag, point control, deathmatch, and team deathmatch, but there's also a local multiplayer component for those of you who want to recapture the feeling of playing Halo with friends on split-screen (complete with the obligatory and swearing). Too bad that there's no dedicated crouch button to complete the latter part of this experience.