5 apps for wireless screen mirroring of your iPhone or iPad display without Apple TV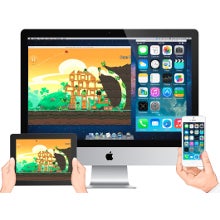 To mirror your iPhone or iPad display, and stream videos, pictures and other media wirelessly from there you have to have an Apple TV hockey puck, but what about the times you want to do it without, just using the built-in AirPlay feature? Yes, you can, and there are plenty of mirroring apps for your computer that will allow you to do just that.
Imagine a presentation you have to use your iPad for - you can stream the content wirelessly to the computer that is tied to the classroom or boardroom projector with ease by using some of the methods listed below. You just need to install the apps on your Mac or PC (some even allow mirroring to Android devices or Chromebooks), and use AirPlay to throw your iPhone or iPad screen content at them in real time. Check out the collection below if you are in need of something similar.