5" Moto G Titan and 4.3" Moto E Styx leaked on a UK retailer's site, full specs and price in tow
14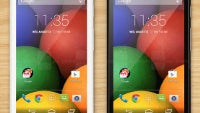 As far as we can tell, Motorola is making a very fine recovery from its recent troubles, thanks to its robust portfolio of smartphones – we now have the high-end Moto X and DROID lines, coupled with the mid-range Moto G series, and, of course, the entry-level Moto E, which made its debut back in May last year. As can be expected, Motorola is already working on sequels, and it turns out that it has both a new Moto E and Moto G model in mind (Styx and Titan, respectively), though the only changes are the addition of an LTE radio.
How do we know? A slip by UK retailer Argus' staff, it seems, for the two new models were spotted on its website two days ago. The listings have since been taken down, but a little cache magic goes a long way, so we still have snapshots of those pages, and they're rich with details about the two devices.
Starting with the higher-end, Moto G Titan, we're looking at a 5-inch, 768 x 1280 pixel resolution TFT LCD display (299 ppi), an unidentified quad-core processor (Qualcomm Snapdragon 400 probably) with LTE, an 8-megapixel rear camera, and 8GB of microSD-expandable internal storage. Like its twin, the Moto G 2014, the Moto G Titan will also offer stereo speakers, and you can expect a near stock Android 5.0 Lollipop out of the box as well. The Moto G Titan is listed with dimensions of 5.57 x 2.78 x 0.43 in (141.5 x 70.7 x 10.99 mm) and a weight of 5.47 oz (155 g). Argus had a £159.95 price tag attached to the Titan, which converts to ~$242.
As for the lower-end, Moto E Styx (a Moto E variant with LTE), we're looking at a relatively small, 4.3-inch TFT LCD display with a resolution of 540 x 960 pixels (256 ppi), a similarly unnamed quad-core processor with LTE, a 5-megapixel main camera, and 8 gigs of storage (32GB more with a microSD card). The Moto E Styx won't offer stereo speakers from what we see, but stock-like Android 5.0 Lollipop is on the list. The 5.11 oz (145g) Styx measures in at 5.11 x 2.63 x 0.48 in (129.9 x 66.8 x 12.3 mm) and cost £109.95 (~$167), at least according to Argus' site.
See the cached snapshots for yourself.