7 games like Hearthstone for seasoned Android and iOS card players to enjoy
1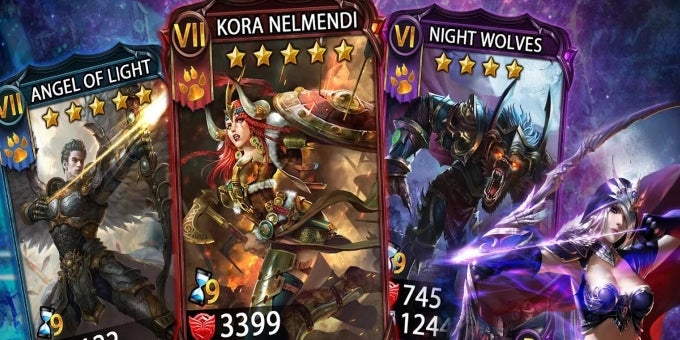 Card games are the modern incarnation of old-school tabletop games, reborn on mobile. Players are asked to exercise their strategic thinking by dueling with cards that outline characters' stats, assembling the most powerful decks possible and laying them out on virtual tables – decorated like magical places. Among these, it's Blizzard's Hearthstone that's become extremely popular, riding on World of Warcraft's overwhelming success.
But if you're bored from playing Blizzard's smash hit, fret not – there are plenty of quality card battlers on Android and iOS to spend your time with. And with no exception, the seven games which we've rounded up here are fantasy-themed. So your love for the magical and whimsical will still find a place to thrive. Check out this selection and have fun!
Pathfinder Adventures
Pathfinder Adventures is a digital adaptation of Paizo Inc.'s Pathfinder Adventure Card Game, where players cooperatively battle monsters and acquire new feats, items, weapons and allies. Characters have classes such as fighter, wizard, and rogue, as well as stats defining strength, dexterity, intelligence, and other traits. The game can be played single or cooperatively with the built-in pass-and-play functionality.
In Pathfinder Adventures, every in-game locale has been transformed from a card image to beautiful animated backdrops, with interactive cutscenes featuring iconic characters. There are also multiple adventure profiles that let players experience the campaign with every character.
Ascension
Designed by three Magic: the Gathering tournament champions, Ascension has players take on the roles of powerful Champions and align with one of the four factions found in the world of Vigil – Dhartha, Nairi, Sadranis, and Kor. Players battle against the Fallen One for honor and victory, alone or with their friends.
SolForge
Made by the creators of Ascension and Magic: the Gathering, SolForge is a free-to-play game where players assemble their own decks to challenge their friends or battle against the computer. Whenever you play a card, it will level up into a new, more powerful version and as the game progresses, you will gain access to more powerful, higher level cards. Some cards start off weak and level up into powerhouses, while others start strong but don't evolve as much, which presents interesting strategic and tactical choices.
Star Wars: Force Collection
Star Wars: Force Collection will have you collect over 400 character cards and vehicles. You can form your own unique battle formations and each card has its own combination of card skill, attack range, and force attributes. Thus, you can create a deck that makes these cards exert their true power and battle other players to prove your mastery, or form a "Legion" with players from around the world and fight real-time battles with other Legions! By joining a Legion, you can have a training battle with your team members and exchange information via team chat.
Card Wars - Adventure Time Card Game
Any fans of Adventure Time on Cartoon Network around here? Great, this one's for you! It's all about card combat in which you lead an army of recognizable warriors like Husker Knights, Cool Dog, the Immortal Maize Walker, and... the Pig, destroying your opponent's forces. You can place towers and cast spells, unleashing ultimo attacks with custom decks and leveling up your creatures, spells, and towers. It's up to you whether you will be crowned a Cool Guy, or end up drinking from the Dweeb cup.
Heroes of Camelot
In this game, you must reclaim Camelot from the Black Knight. It's an RPG multiplayer battle card game that transports players into a world where dragons and medieval mythological figures thrive. But The Black Knight and his undead warriors have invaded Camelot and made King Arthur and Merlin summon all of Britain for a Hero to rise. Guess who this Hero will be! As the savior of Britain, you are to battle for survival and reclaiming your land's power by assembling, training, and evolving hundreds of powerful heroes. Each represents a card endowed with distinct abilities and powers.
Deck Heroes: Legacy
Featuring a horde of amazing Heroes and magical Creatures tasked with saving a threatened kingdom, Deck Heroes will have you collect hundreds of cards, carry out thrilling battles, and delve into its majestic and mysterious lore. The game features four factions and intricate maps with mazes, trials, and other adventures for brave wanderers. And if PVP action is what endears you, there are plenty of raids, competitive matches, and fights to enjoy!
ALSO READ