4G tablets coming to T-Mobile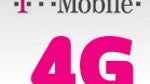 It was only yesterday when we told you that Sprint is set to release a
4G tablet not powered by Android
and now T-Mobile follows suit announcing that it's to launch a few 4G tabs in 2011.
Sadly, neither an additional information about the T-Mobile 4G tablets was released, nor a timescale when to expect them in 2011. A press release on Friday said that:
"T-Mobile is working closely with the majority of our OEM partners to deliver 4G products by integrating HSPA+ into roadmaps in 2011 as the dominant global standard. Consumers will continue to see HSPA+ fuel future innovation in a variety of mobile consumer electronics from smartphones and tablets to emerging devices. T-Mobile will continue to be at the forefront of wireless innovation, delivering an aggressive 4G product lineup in 2011, including 4G tablets."
As you probably know, T-Mobile branded its HSPA+ network
"America's largest 4G network"
and is set to further expand it. That's why it would be interesting to see what kind of speeds the fourth-largest carrier's subscribers will achieve on their tablets in 2011.
source:
PC Mag